iPod Nano Refresh Confirmed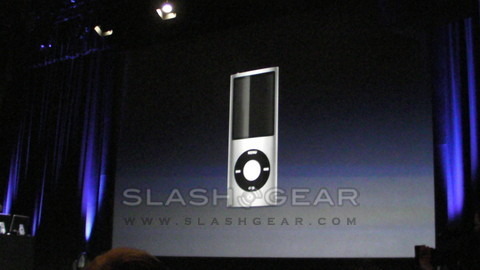 Much of our speculation was confirmed today at Apple's Let's Rock event, especially regarding the iPod nano refresh. Steve even joked about the rumors because of the leaked iPod accessories. But after that, it was all business.
First, the iPod Classic is changing. The new 120 GB model is replacing the 80GB and the 160GB is being discontinued. You will be able to hold up to 30,000 on this new model, which is the same as the Microsoft Zune, Jobs points out, and it will cost you $249. Just like the Zune, too.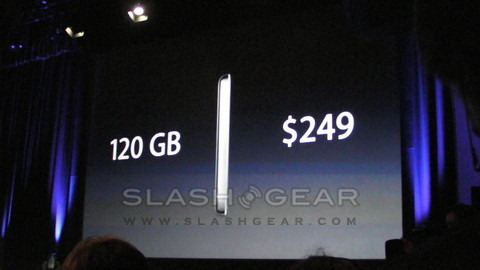 The iPod nano refresh, however features the "much loved" form factor of the 2nd gen model with the 3rd gen's ability to play video. It has the same height as the 2nd gen nano and Steve says "You will be blown away by how thin it is." With an aluminum casing with curved glass, this nano gets an accelerometer as well.
It is the thinnest iPod ever, and just as with the iPhone/iPod touch, turn the new nano on its side and the screen rotates full-size album art and photos in coverflow. Plus, if you push and hold the center button and you get a pop-up contextual menu.
If you attach a microphone you automatically get a voice recording option and calendar and stopwatch functions are also included. They've also added a neat ability to shake the nano to shuffle tunes. It's called "Shake to Shuffle," appropriately.
With 24hr battery life for music, 4hr video, this iPod nano what we hoped for. It's environmentally friendly too with highly recyclable and toxin-free components. Plus, there's lots of color options with black, purple, blue, green, yellow, orange, violet, red. Jobs called it "nano-chromatic" Ha-ha.
The 8GB iPod nano will be available today for $149 and the 16GB will be available next week at the latest for $199.