iPod nano 6th-gen hands-on

At first glance, if it wasn't for the touchscreen display up front, you could easily mistake the new iPod nano for the iPod shuffle.  Significantly smaller than its predecessor, the new nano gains a clip, a 1.54-inch 240 x 240 multitouch-capable display and the shuffle's VoiceOver, turning it potentially Apple's most tactile PMP yet.
Steve Jobs mentioned just how small the sixth-generation iPod nano is a few times during his keynote, and in the metal it's truly astonishing.  The touchscreen is bright and vividly colored, obviously reminiscent of iOS on the iPod touch, but the whole thing buries down into your palm.  During music playback the whole screen shows album art, and while there's no video playback support – and you lose the camera of the fifth-gen nano – we've a feeling most people, like us, will prefer the smaller scale and more dedicated focus.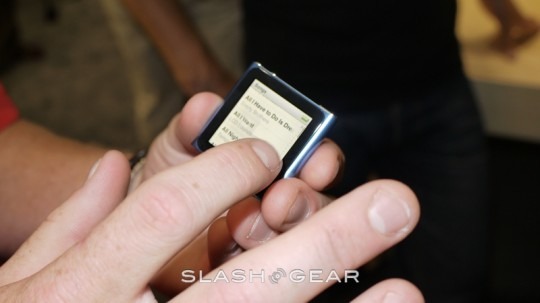 The UI borrows just enough from the iPod touch to be familiar – dragging around icons is very straightforward – but is still simple enough for casual users.  Meanwhile, as with the shuffle, build quality feels high despite the minimal weight.  Interestingly, there are various accessibility options, including a clear white-on-black alternative color scheme for the UI, and a screen-reader that uses VoiceOver to read out the options.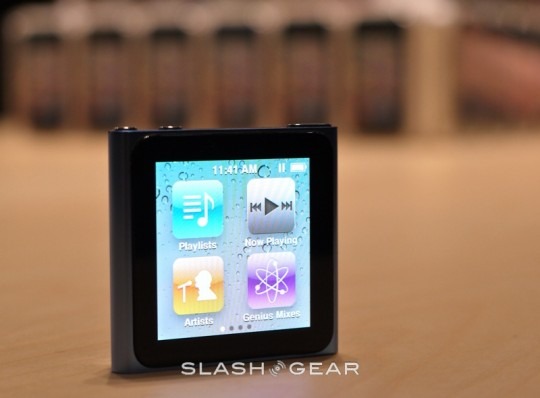 The iPod nano is available for preorder now, priced at $149 for the 8GB and $179 for the 16GB.
iPod nano 6th-gen hands-on video:
[vms da9c6fb5ba83c7a7ebea]