iPin turns your smartphone into a smart laser pointer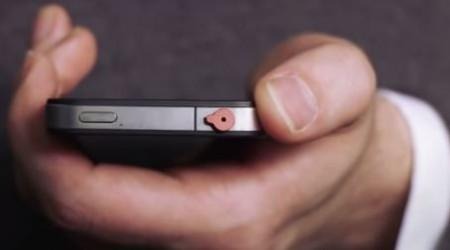 The newest smart accessory to surface for smartphones is the iPin, a tiny dongle of sorts that plugs into your smartphone and functions as a laser pointer, allowing you to point at things from across the room or drive your pets crazy. In addition to the laser pointer functionality comes presentation control, which makes giving presentations easier by combining the pointer and remote into one device — your smartphone. Users can swipe through presentation slides using their handset's display, while their laser pointer appears on secondary screens for the audience.
The iPin plugs into an iPhone's headphone port; for Android users, it plugs into the micro USB port. The related app is then downloaded and used to control the presentation itself, offering things like a countdown timer, mouse tracking pad, and paging. This can also be mirrored to other displays for audience members to watch.
The iPin and app are joined by the BTtogo dongle, which brings the presentation to PCs and Macs without the hassle of installing other programs or setting up the presentation over WiFi — making it a better choice for those times you'll be using borrowed systems or computers at a facility that isn't your own.
iPin has exceeded its $10,000 goal on Indiegogo, currently sitting a bit over $41,000 USD with a month or so remaining. The price depends on which version you get: the iPhone iPin with a BTtogo dongle requires a $65 pledge, for example, while an iPin by itself for Android is $25. Shipping is set to start some time next month.
SOURCE: Indiegogo