iPhoto for iOS ditches Google Maps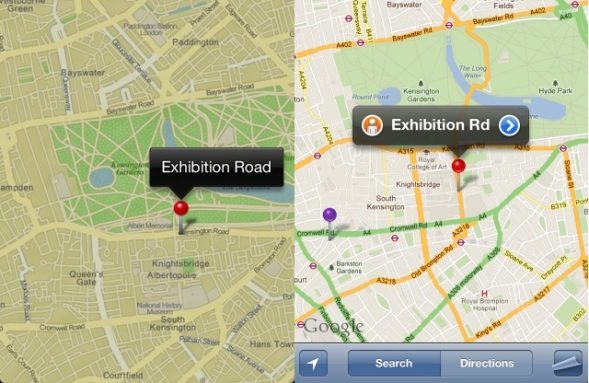 The relationship between Apple and Google has increasingly been a tense one, with Android continuing to gobble up market share in the smartphone space, as well as patent disputes and litigation with Apple and Android OEMs suing each other left and right. In a move that seemingly sees Apple further distancing itself from Google and its services, Google Maps isn't used in iPhoto for iOS.
Gone is the familiar layout that you would find with Google Maps, instead replaced with Apple's own offering. Holger Eilhard posted to Twitter to confirm that map images in iPhoto for iOS were being pulled down from Apple's own servers, gsp2.apple.com. We know Apple have been building up their map service for a while, first purchasing mapping company Placebase back in 2009, and then Poly9 back in July 2010. More recently Apple have acquired C3 Technologies, a company specializing in 3D mapping content.
Apple still continue to use Google services throughout iOS and Mac OS, although this latest development is a clear indication that Apple are working towards moving away from Google Maps in the future. In this writers humble opinion, the maps offering up in the iPhoto iOS app still leave a lot to be desired.
At first it was believed that Apple were licensing third party maps, although John Gruber has confirmed directly with Apple that it is their own service. It still remains to be seen exactly when Apple will further elaborate on this service or roll it out across iOS devices, replacing Google Maps.
UPDATE: OpenStreetMaps have now confirmed via their blog that their data is being used, while the map tiles are generated by Apple. The map information is also from the beginning of April 2010 and thus out of date.