One of Apple's biggest spiels about the iPhone XS and XS Max is their improved LTE performance. That's thanks to its overdue adoption of 4×4 MIMO technology. In theory, that should shut Samsung up over its claims of download superiority. But how does it perform in practice? Separate benchmarks apparently show how much the iPhone XS improved over its predecessor. Unfortunately, they also show how Qualcomm may still have a bargaining chip over its new enemy.
With the considerable increase of Internet use on smartphones, it's not surprising that users have become more demanding and more conscious of their smartphone's download speeds. But while technology on the carriers' side are more or less up-to-date, last year's most expensive iPhone still used a more common but also slower 2×2 MIMO modem. That changed with the iPhone XS and XS Max, but by how much?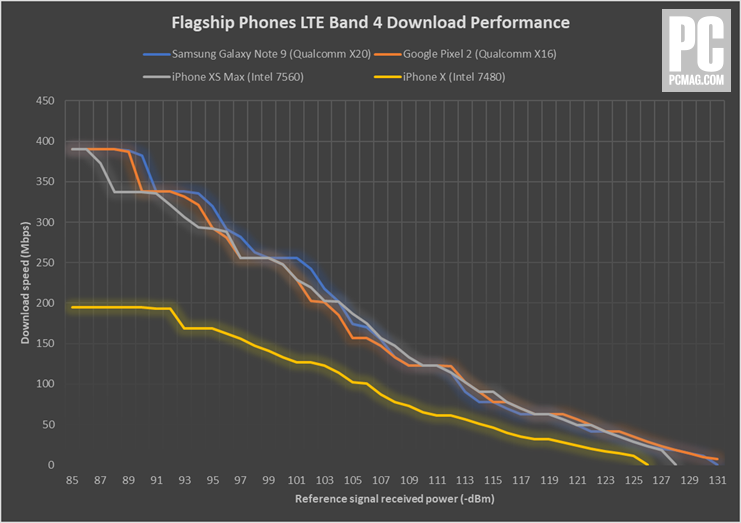 According to the data gathered by PCMag from Cellular Insights and Ookla's Speedtest, quite a lot. Using 4 download lines instead of only two has not only helped the iPhone XS Max do great under good signal conditions, it also helped the iPhone do well even when signals degrade.
Sadly, the iPhone XS doesn't live in a bubble and it will inevitably be compared to other smartphones, whether it likes it or not. And while the iPhone XS definitely trumps last year's models, it seems to have some trouble catching up with its biggest rival, the Galaxy Note 9. The key difference? Qualcomm's X20 LTE modem inside Samsung's flagship. In particular, the Galaxy Note 9 and even the Google Pixel 2 with an older Qualcomm X16 modem hold out better under poor signal conditions. The X20 modem also seems to offer faster download speeds on average.

It's hard not to paint this in the background of the ongoing bickering between Apple and Qualcomm, especially concerning network hardware and patents. But while this may prove that there is still something to Qualcomm's claims of superiority, it should note that Apple is catching up fast and that next year's story might be very, very different.