We're just counting down the days before one of the most awaited smartphone events of the year, especially for Apple fans who have been biding their time since the beginning of 2018. But while much of this year's iPhones have already been leaked, there still seems to be some debate, not to mention consternation, about the names. But if you thought the names "iPhone XS" and "iPhone XS Max" were already cringe-worthy, the colorful "iPhone Xc" might have something to upset hopefuls more than just its name.
Apple is expected to do something it hasn't done since the iPhone 5c in 2013. Not only will it be providing a more colorful selection on a "budget" version of a flagship iPhone, it will also be reusing that "c" suffix, which now definitely stands for "color". Those colors were revealed by leakster Ben Geskin, a.k.a. @VenyaGeskin1, as red, white, space gray, and rose gold.
Just a few days later, Geskin dropped another bombshell: those weren't dummy units after all. The images, according to him, are the "real deal". Well, prototypes at least, not retail units. If that's true, then it also pretty much confirms that the iPhone Xc would be the first iPhone with dual SIM support as shown in the rose gold version above.
That was also "confirmed" by a leak on Weibo showing a China Mobile slideshow presentation that reveals details about the three iPhones. The names, for example, are indeed the iPhone XS, iPhone XS Plus (not Max), and iPhone XC. It mentions dual SIM variants of the XS models, though, so there's still a bit of confusion in that regard.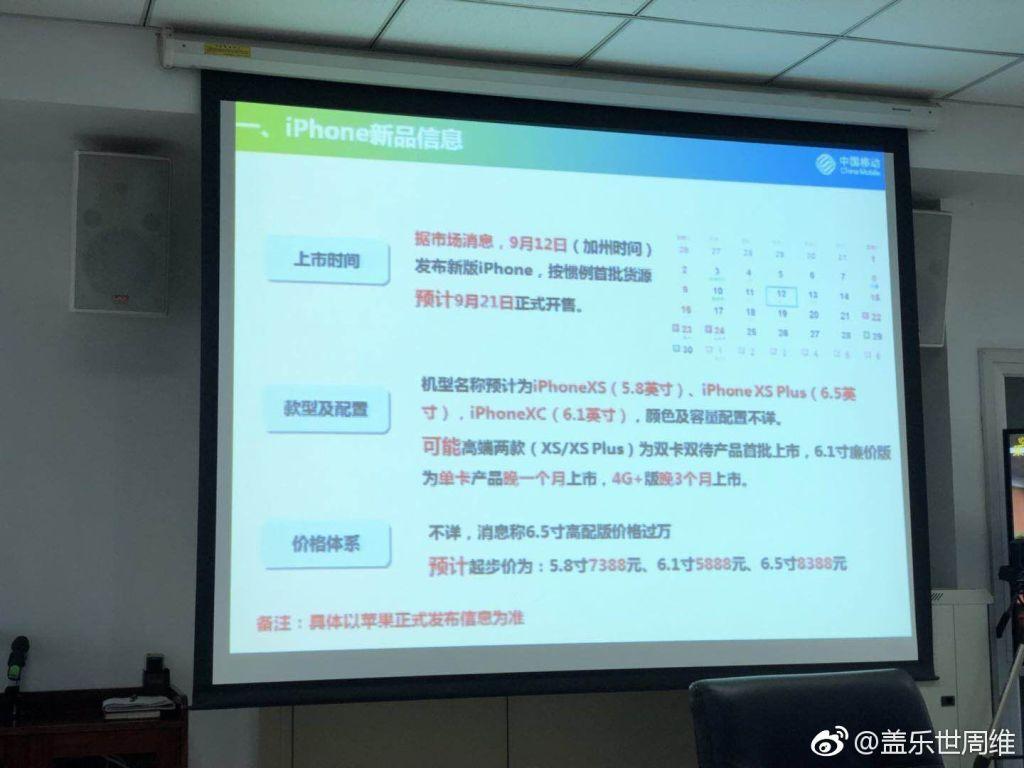 What the "c" in the iPhone XC (or Xc) doesn't stand for is "cheap". Or at least according to the prices being shown here, with 5,888 RMB ($860) for the iPhone XC, 7,388 RMB ($1,080) for the iPhone XS, and 8,388 RMB ($1,230) for the iPhone XS Plus. While actual US prices might differ, Goldman Sachs has revised its own estimates, saying that the 6.1-inch LCD iPhone, a.k.a. iPhone XC, will actually sell for $849, instead of the expected $699. Definitely not the "affordable" iPhone X you may have been hoping for.