iPhone Take US Smartphone Top-Spot While Android Grabs OS Pole Position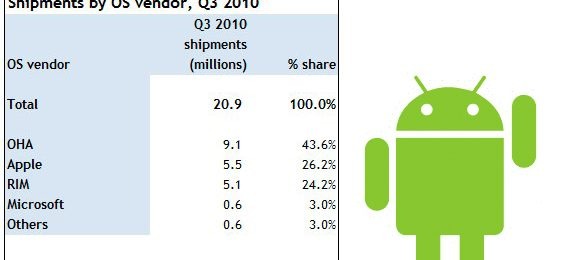 Mobile market watchers Canalys have pushed out their latest report on smartphone sales in the US, concluding that Android-based devices have edged ahead of Apple's iOS and RIM's BlackBerry OS in terms of sheer numbers.  However, when looking at individual manufacturers, Apple has taken pole position of the US smartphone market with the iPhone, holding 26.2-percent of the market share, and pushing RIM into second place with 24.2-percent.
The combined efforts of HTC, Motorola, Sony Ericsson and others has helped Android device growth shoot up 1,309-percent year-on-year, from 1.4 million in Q3 2009 to more than 20.0 million units in Q3 2010.  Its explosive growth is partially explained, Canalys suggest, by the range of price-points Android devices cover, as opposed to the more premium iPhone range.
Meanwhile Nokia still hold the top spot worldwide, at 33-percent, though that's down five points from the previous quarter.  Windows Mobile devices made up just 3-percent of worldwide smartphone sales, but of course all that could change now Windows Phone 7 is on the scene.