iPhone plastic shell leaks in China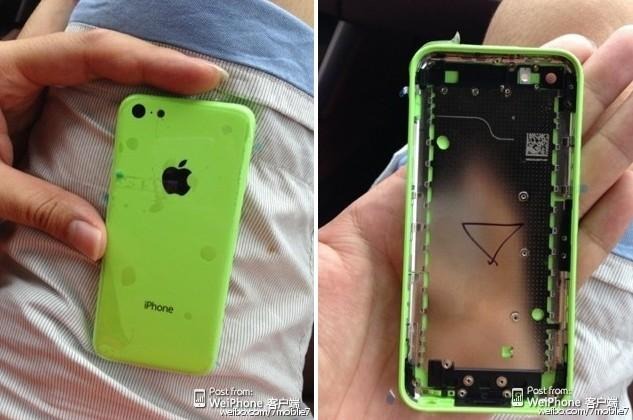 It's time to get green, it would seem, as a brightly colored back shell of what's said to be a next-generation iPhone leaks in China. This leak is consistent with several tips and suggestions over the past week involving the so-called "budget" iPhone, including the color similarity to current iPhone bumpers. This device would, if it proves to be real, be one of several color options for the iPhone later this year.
This piece of hardware comes from micro-blogger 7mob, a fellow known for connections to China-based factory workers. In this case, the leakster claims he's got a "friend's friend" in with Foxconn, one of the largest manufacturing lines Apple has used in recent years.
This device appears with a single LED flash hole to the right of a lens hole (both of them circular), with a microphone hole between the two. A black Apple logo rests in the standard location in the center and top half of the device, while the normal "iPhone" brand name rests in the same location on the lower half.
It's also been suggested that this green color is one of six options for the machine, with yellow, blue, pink, white – and it would appear that black is missing in action at the moment. Perhaps to differentiate between this low-cost model and the higher-end line with the iPhone 5, but no confirmations exist as such.
VIA ICTech