iPhone HD Investigation Intensifies: REACT Raids Editor's Home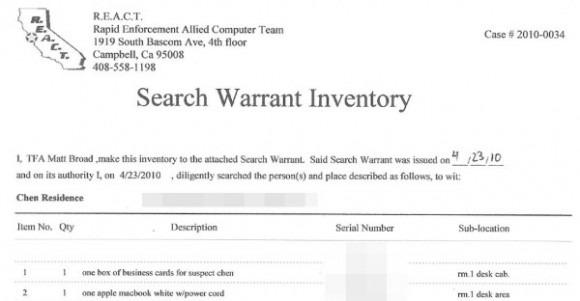 It's been covered since the beginning: iPhone HD/4G images get leaked, and then sure enough there's a full-blown tear down of the device by another blog. And then it got a bit more interesting. Well, sure enough, it's starting to reach that ultimate conclusion that pretty much everyone saw coming. According to documents that Gizmodo has posted on their site, California's R.E.A.C.T computer crimes task force has raided an editor's home, seizing several pieces of property.
Jason Chen's home was raided before he returned home from dinner. REACT was working with the authority of a search warrant, and it all happened during the evening hours last Friday. The task force seized several pieces of computer hardware, along with several other items, all of which are wrapped up in an investigation regarding the acquired iPhone HD/4G.
This means that a criminal investigation from the San Mateo police force, along with the District Attorney is under way. That also means, without a doubt, that this unfolding story is going to get more interesting as the days progress. We'll keep you updated as things unfold, but in the meanwhile, let us know in the comments what you think of all this.
[via Gizmodo]