iPhone 8 release date and pricing details [UPDATE]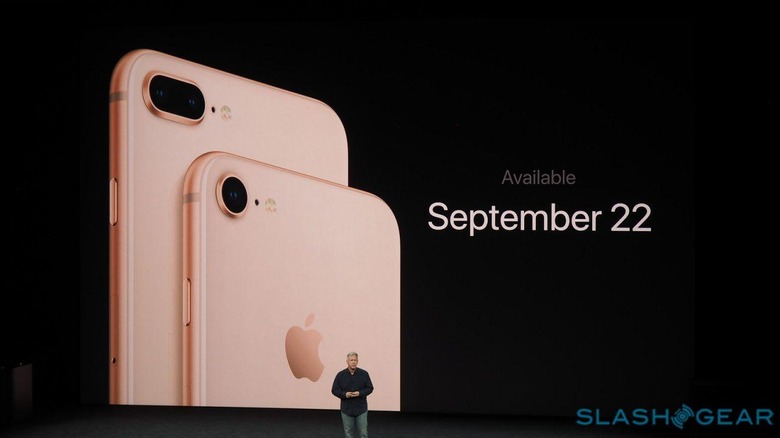 Today Apple revealed the iPhone 8 and the iPhone 8 Plus (AKA iPhone 8+) during a major event at the Steve Jobs Theater in Apple Park. This device is the latest in a line of smartphones from the company that's been calling said phones "iPhone" since their first in 2007. While precedent suggested that Apple would reveal an iPhone 7s and iPhone 7s Plus this week, they've gone right on ahead to the number 8 to emphasize the importance of this next-gen set of smartphones.
Before this event, the iPhone 7 and iPhone 7 Plus cost $649 and $769 respectively. With the iPhone Upgrade Program, users were able to purchase the iPhone 7 for $32.41 per month. That same program offered the iPhone 7 Plus for $37.41 per month.
The iPhone Upgrade Program remains online for AT&T, Sprint, or Verizon, while users are encouraged to visit an Apple Store to join the iPhone Upgrade Program with T-Mobile USA. All four major carriers remain onboard for the iPhone 8 and iPhone 8 Plus, and similar pricing structures seem to be in place.
At the same time, again before this event took place, the iPhone 6s Plus cost $649, while the iPhone 6s cost $549. The iPhone SE was also available at $399. Colors for these devices included Silver, Gold, Rose Gold, and Black. The iPhone 7 and 7 Plus were also available in Jet Black. The iPhone 7 was also available in a (PRODUCT)RED special edition.
The iPhone 8 will cost $699 – it'll start there, anyway. That's for the 64GB edition, while a 256GB edition will also be made available. The iPhone 8 Plus will cost $799 and up, and will also have a 256GB internal storage version.
All iPhone 8 preorders start on September 15th, arriving September 22nd. After that, iOS 11 is coming to the rest of the world on September 19th.