iPhone 7 Plus prototype: wobbly, blue, and smart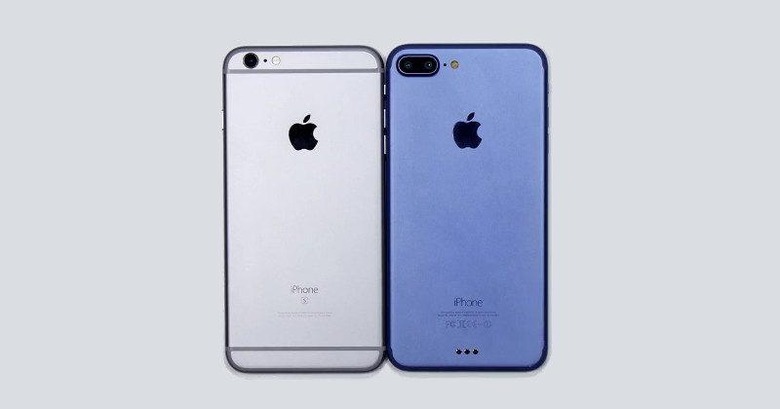 We've seen a couple of iPhone 7 physical mockups and prototypes, but that isn't the only iPhone Apple is expected to reveal next month. In fact, considering the addition of two features not found on the base model, it might even be more controversial than the already controversial iPhone 7. And so it is just appropriate that we also get an unofficial look and feel with the iPhone 7 Plus. Or Pro, if that's what others are calling this feature laden model.
Plus or Pro, it's going to be larger than the iPhone 7 naturally. But while the previous two Plus versions really only had size to speak off compared to the iPhone 6 and 6s, the iPhone 7 Plus may have more to say when it comes to features. And most of them could be found at the back.
The most obvious will be the larger camera hump, which now has space for two sensors. How Apple will play that card still remains to be seen. Is it going to be somewhat gimmicky only, like the early days of dual camera sensors? Will it have a monochrome sensor partnered with an RGB one like the Huawei P9. Or is Apple aiming for something totally unheard of for an iPhone, like Project Tango augmented reality? Either way, the added feature will have a cost. The camera setup now protrudes more compared to the iPhone 6s Plus, in part because of presumably larger image sensors. This will make the iPhone 7 Plus wobble even more when laid on top of a flat surface. Then again, that doesn't really bother much.
Just as obvious are the three connectors at the bottom of the smartphone. Those are familiar looking connectors, similar to the ones on the iPad Pros. This implies some sort of special accessory system, not unlike those on the Moto Z. Hopefully, Apple has more of those already prepared, in contrast to the so far one and only Smart Connector accessory for the iPad Pro.
And finally, that shade of blue! Never before seen on a normal iPhone. That alone might make some swoon over the iPhone 7 and iPhone 7 Plus, presuming both get the same color option. Admittedly, at least on this prototype, the dark shade makes the redesigned antenna lines barely visible, making it an even more tempting choice.
Of course, we can't forget things we already know, or at least heard of, like the lack of a headphone jack, perhaps the most painful change for iPhone fans. Still, Apple has always been a force for change, for good or for ill, and people just learn to live with it.