iPhone 7 display updated, 'best on any smartphone'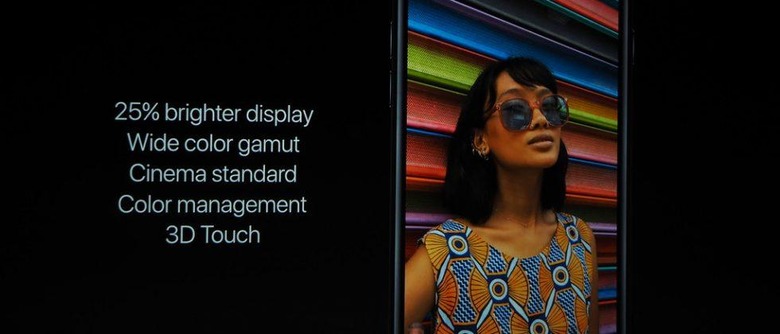 Apple has run down the list of the new features on the iPhone 7 and 7 Plus, and while the camera may be the biggest star of the presentation, the company is promising some major things for the phones' Retina HD Display. Apple's Phil Schiller is so confident in the quality of the iPhone 7 display that he touted it as being the "best display on any smartphone."
There are a few things that would make Schiller consider this display to be the best around. To start, Schiller said that the display on the iPhone 7 will be 25% brighter than that of its predecessors, those being the iPhone 6s and 6s Plus. 3D Touch will also making a return in the iPhone 7 after making its debut in last year's iPhone models.
Improvements in brightness and the return of 3D Touch aren't necessarily responsible for Schiller's claim, though. He spent a lot of time talking about the display's wide color gamut and color management features, which will presumably give iPhone users a deeper selection of more vibrant colors. To show some off some of the features of this new display, Schiller brought Instagram Head of Design Ian Spalter on stage to explain how the app takes advantage of these new color options.
While a fair amount of time was spent on talking about the benefits of the iPhone's new camera as it applies to Instagram photos, Spalter did announce that all of Instagram's filters are being updated to support the iPhone 7's new wide-color gamut display. Spalter also showed off Instagram's 3D touch capabilities, jumping right from the home screen right into Instagram's camera, and announced that live photos can be imported into Instagram and turned into boomerangs.
There's more to come from Apple's iPhone 7 and 7 Plus event, so keep it here at SlashGear!