iPhone 6S leak hints at faster LTE, better battery life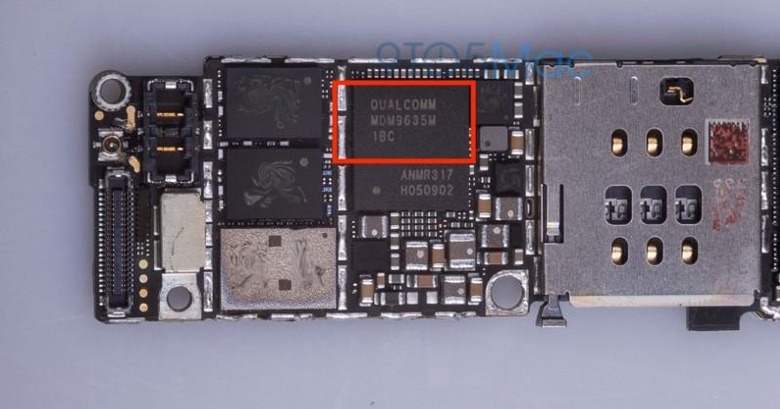 While we wait for the dust of the Apple Music launch to settle down, we take a peak at another of Apple's most awaited product, as if it ever had a non-awaited product. Courtesy of a brave leak source, we now have a view of what is supposedly the iPhone 6S motherboard. And with that, the smartphone's LTE modem has also been revealed: a Qualcomm MDM9635M, known by its other name, the 9X35 Gobi mobile platform. This chip promises not only Cat. 6 LTE speeds but more efficient power usage, leading, hopefully, to a longer battery life.
The 9X35 is not new. Qualcomm announced it back in 2013 but, thanks to your usual production schedules, it didn't make it to the iPhone 6 or 6 Plus. It did, however, land on the Samsung Galaxy S5, and users of that smartphone might attest to the boost in 4G speeds that they have experienced, thanks to the chip's support for Category 6 LTE.
Cat. 6 LTE steps up the game by supporting theoretical speeds of 300 Mbps on downlink. That's double the advertised 150 Mbps of the current batch of iPhones. In reality, of course, carrier speeds, network congestion, and other factors will pull down that number, but something in the ballpark of 225 Mbps is still a marked improvement. Uplink, however is capped at 50 Mbps.
Aside from speed, the 9X35 modem also brings power and space saving improvements. Manufactured using a 20 nm process instead of the 28 nm in the current iPhone's Qualcomm modem, the chip promises to be more efficient when using power and generate less heat when in use.
The chip also leaves more room inside. The iPhone 6S is said to be narrower and more compact than the current breed. Considering that, externally, the iPhone 6 won't be slimmer, we can only hope that the extra space will be delegated to a bigger battery. Coupled with the Qualcomm 9X35's power efficiency and iOS 9's power saving features, the iPhone 6S could turn out to be the most battery-friendly iPhone of all time.
VIA: 9to5Mac