For a long time, smartphone benchmarks were the domain of Android devices, as many of the tools, like the ever so popular AnTuTu, just weren't available for Apple's iOS platform. With AnTuTu's latest version, however, it has finally bridged the platform gap. So now we can see a fuller version of AnTuTu's view of the smartphone world from the perspective of benchmark performance. For the first time, Apple's iPhones have appeared in the chart and immediately, Apple's latest and greatest is already trumping all the rest with its near 133,000 score.
To be exact, the iPhone 6s and iPhone 6s Plus, both of which have the same shiny new Apple A9 processor, scored a 132,620 on AnTuTu. That is so far, the highest clocked using the new AnTuTu version 6.0 app, Apple usually doesn't get down to the tech details about its chips, preferring to talk in terms of "faster" and percentages. This chart pretty much sums up and proves all that marketing talk.
To be fair, not all of Apple's smartphones are right at the top. The iPhone 6 and iPhone 6 Plus, for example, are just one spot below the top five. That's because those use a slightly older A8 processor. To some extent, that does show how Samsung's Exynos 7420 chips do outperform Apple's custom designed processor. The Exynos processor takes up three spots with the Meizu Pro 5, Samsung Galaxy Note 5, and Samsung Galaxy S6 edge+, at third, fourth, and fifth, respectively.
It is curious to see who is at second spot. The recently announced Huawei Mate 8, with its HISilicon Kirin 950, gets a score of 92,746, a significant lead over the Exynos 7420 devices but nowhere near the iPhone 6s. Huawei's own chips aren't exactly that well known, This could help raise its profile just a wee bit.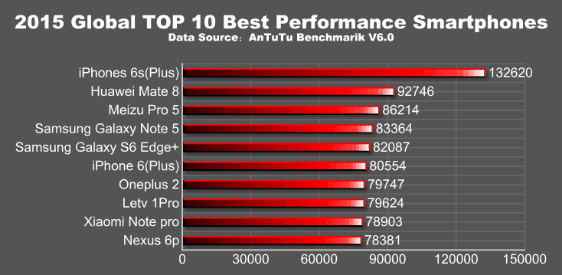 That said, benchmarks aren't the end all and be all of performance evaluation. They can be cheated, for one, and stress test devices under artificial but extreme conditions. They can give an idea about the capabilities of a particular device or processor, but real world performance is always a more holistic, though usually subjective, measure.
SOURCE: AnTuTu