iPhone 6 And 5S Parts Appear In Leaked Photos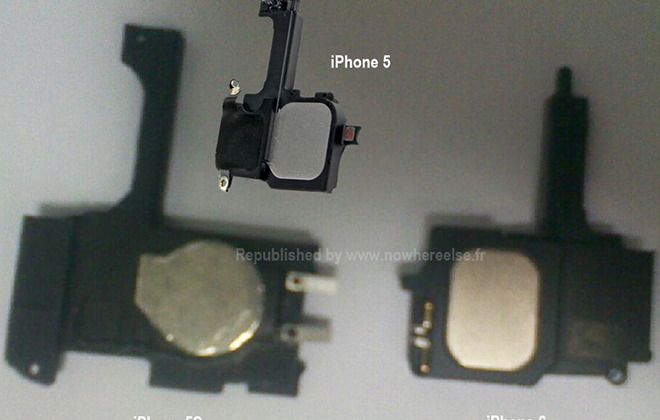 This morning a couple of photos of what appear to be next-generation iPhone parts have been revealed with suggestions of the iPhone 5S and even an iPhone 6 on the way within the year. This set of photos comes from a tipster speaking with NME that they've subsequently said has requested that the photos be blurred out. Since these photos of the innards of devices are essentially blurrier already than we'd care to think about, let's have a look and see what we can see.
The third image you're seeing in the tri-part photo is a superimposed component from an iPhone 5, this showing how similar the other bits are to it. The two new parts are also supposed to be coming to the next iPhone or iPhones, each of them a loudspeaker ready to be housed near the bottom of the device. It's also been tipped by NME that their source has eyes on a third part meant for yet another model iPhone, this one being (perhaps) the iPhone+ or iPhone Math – but we'll be downing some salt squares with that tip without a doubt.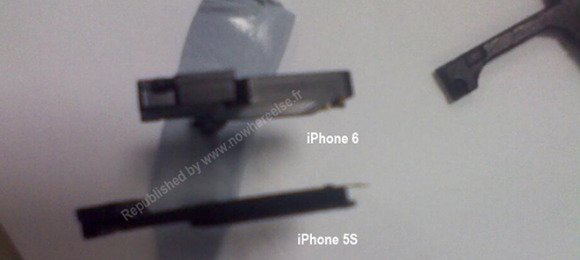 The information surrounding these components it scant, with the supplier only suggesting that they've gotten their hands on Apple-bound bits and pieces. What we're seeing here is something that's exciting only because of the ever-so-slight but telling differences between these and past Apple components, these suggesting a new device or a new setup in the near future. At the moment we've not gotten solid information on any physical changes to the next-generation versions of the iPhone or iPad, so this is just about as close as we're going to get until someone tosses a full device out the back door – and good luck on that.
Have a peek at the timeline below to see additional leaks and tips surrounding Apple's next-generation handheld devices. We're currently sold on the idea that there will be another iPhone release this year, but as far as what it'll be, be it an iPhone 5S, iPhone 6, or monstrous iPhone+, it's anybody's guess. Let us know what you're thinking!
[via Apple Insider]