iPhone 5s Review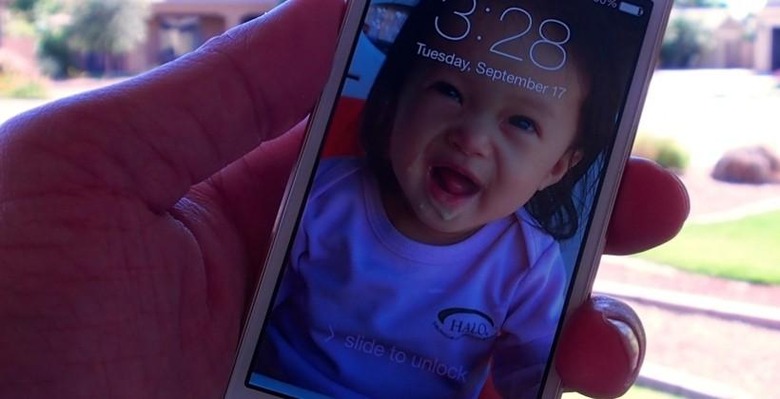 We've come to expect evolution not revolution from the "S" update to Apple's iPhone range, but the iPhone 5s could be enough to buck that trend. Inside the familiar metal casing beats a new processor, the Apple A7, making the iPhone 5s the first smartphone – and iOS 7 the first smartphone platform – to transition to 64-bit; the home button has lost its square sigil but gained a biometric sensor that might be the first to actually convince owners to use it; and the camera may still be 8-megapixels in resolution on paper, but those pixels – and the way Apple uses them – are quantifiably better than before. Does that make the iPhone 5s the automatic choice in smartphones? Read on for our full review.
Design
It may now come in three colors, but the iPhone 5s doesn't stray too far from the iPhone 5 before it. Whether you go for silver, "space gray", or gold, each uses the same 7.6mm thick metal casing as before and the same 4-inch Retina display screen running at 1146 x 640 resolution. Apple still refuses to go bigger than 4-inches, arguing that single-handed use still works most successfully when the screen is relatively compact.
As before, then, it feels crisp and premium in the hand, the diamond-cut bevelled edges catching the light while the combination of the matte finish back panel with the shiny Apple logo and "iPhone" text looking great. Apple also now offers a leather case ($39) for the iPhone 5s, which fits tightly to the handset without the bulk many such cases add.
Three capacity versions are offered, starting from $199.99 with agreement for the 16GB, and rising to $399.99 for the 64GB. Despite hopes otherwise, there's still no 128GB iPhone option. In the box, there's a set of Apple's EarPods earphones, a Lightning to USB cable, and a USB power adapter.
Touch ID
Our smartphones probably hold more valuable information on us than our wallets do, these days, and yet Apple says around half of iPhone owners don't use any sort of security PIN or passcode. That's a lot to risk should your phone be lost or stolen.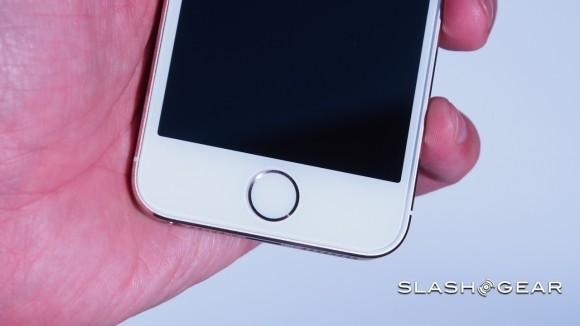 Apple's answer is Touch ID, a fingerprint sensor built straight into the iPhone 5s home button. It's not the first time we've seen biometrics included on a smartphone – Motorola has tried it before, for instance – but so far fingerprint-based security is yet to have caught on.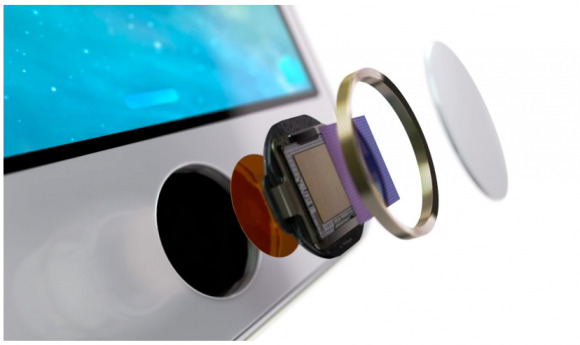 Touch ID looks set to change that track record, though, thanks to a combination of inspired placement and near-zero effort implementation. Rather than mounting the sensor on an edge somewhere, Apple has integrated it into the home button: the physical control owners already use to wake the device. Scanning times are almost instantaneous, and you don't have to be careful about what angle you press it at. In fact, we've been able to successfully unlock our phone holding it upside-down.
Using Touch ID requires some registration, and Apple recommends you do it for more than one finger since if you cut or mark your fingertip, the sensor might not read it successfully. You're walked through it during initial setup, though you can also access the registration through the settings page.
First, you'll need a PIN code as usual – that's in case the biometrics doesn't work, but is also required the first time you unlock the iPhone 5s after you restart the phone, or after 48 hours of idle time – and then it's a case of repeatedly tapping your fingertip onto the sensor until iOS has built up an understanding of the fingerprint. Once you've done that, you do the same with the edges of your fingertip, which helps the iPhone 5s recognize you even if you come at the sensor from an angle.
Up to five fingers can be registered, either all your own or a mixture of prints from different people you want to have access. Right now there's no way to assign different access privileges depending on whose finger it is that's recognized, though it's not hard to imagine an iPad that uses Touch ID to seamlessly log into different user accounts.
Once that's done, suddenly unlocking your iPhone becomes incredibly easy. Touch ID is magical in how simple it makes using the iPhone 5s. Press the home button and you're looking at the homescreen; it's actually cutting down on even more taps compared to an PIN-free device, since now you don't have to swipe the unlock bar either. We haven't had a single occasion where someone else could unlock the phone with an unregistered finger, and nor have we had to resort to the PIN code.
Apple is playing the technical side of Touch ID close to its chest. The system uses a new, layered home key, with the physical button stacked with first the 170-micron fingerprint sensor, then a metal ring (matching the color of the iPhone itself) which is used to trigger the sensor so it's not constantly active and using power, and then a sapphire glass top piece, to both protect the assembly and ensure the sensor has a clear view of your fingerprint.
Images of your fingerprints themselves aren't stored. Instead, Touch ID builds a unique identifier based on the whorls and lines of your fingerprint, from which each user can be uniquely identified but which can't be "decoded" to your actual print. These five identifiers are stored in a secured part of the new A7 chip, rather than being pushed to iCloud or any other of Apple's servers; wipe the iPhone 5s and you'll need to re-register your fingers.
Apple A7 and M7 Coprocessor
New iPhone, new chip, and the Apple A7 not only replaces the A6 of the iPhone 5, but brings along a friend in the shape of the M7 Coprocessor. The A7 also supports one of the biggest changes in iOS 7 – though one that's effectively invisible to the actual user – with a switch from 32- to 64-bit architecture.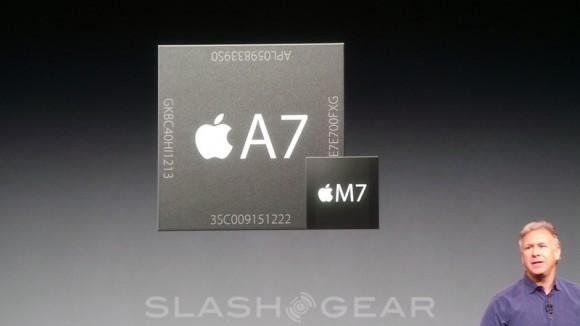 The Apple A7 is effectively all new, with the CPU, GPU, and image signal processor (ISP) all being refreshed for the iPhone 5s. Apple says it's twice as fast than the iPhone 5 in terms of the CPU, and even faster for graphics; the latter gets OpenGL ES 3.0 support for the first time, too, and is used for things like better reflections, shadows, and textures in games. As for the new ISP, that's used by the camera for improvements in autofocus and frame rates in video recording, more on which in the next section.
The M7 Coprocessor is also new, and is part of Apple's attempts to balance the expectation of an "always-on" device with the battery life users demand. To do that, the M7 takes on some of the sensor processing duties the A7 might otherwise have been expected to handle: crunching the motion data from the accelerometer, gyroscope, and digital compass.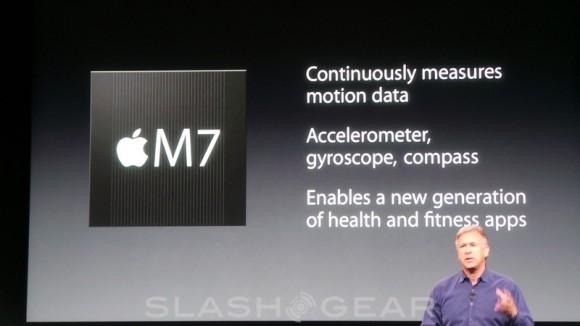 Fitness apps, Apple Maps, and other software that relies in any part on information about movement can now get that data from the M7, rather than waking the A7, at roughly a sixth of the power consumption.
The M7 gives the iPhone a sense of context it never quite had before. Because it can differentiate between different types of movement, apps can now respond automatically to whether you're in a car, running, or walking. Apple Maps is a good example, engaging walking directions if the M7 senses your journey has shifted from the roads to the sidewalk.
However, it can also have a knock-on effect on power consumption beyond simply saving the A7 chip from activity. Leave your iPhone 5s on your nightstand and, after noticing you're not moving and are probably asleep, the M7 reduces the frequency of network pinging. On the flip side, if you're moving at speed and the M7 decides you're likely to be in a car, it will shut off WiFi network prompts on the assumption that you're probably not going to want to connect to them.
Of course, Apple is particularly excited about the change from 32- to 64-bit. That's something that requires an evolution both in hardware and software, and sure enough both the A7 and iOS 7 have been reworked to suit. One of the most obvious advantages to 64-bit architecture is in memory allocation, when dealing with 4GB+ of RAM, though for the iPhone 5s it's more likely the 64-bit registers and their ability to process larger data pipelines such as direct integers and floating-point storing and processing – of use, for instance, in the more ambitious games – that will make the most obvious difference for end-users.
The switch from 32-bit to 64-bit may be complex under the hood, but the A7 has clear improvements for users when it comes to everyday tasks. One of the most challenging a smartphone can be asked to do is processing video, so we tested the iPhone 5s with 1080p and 720p clips in iMovie.
Performance
Impressively, the iPhone 5s took just 2 min 24 sec to output a 5 minute, 1080p Full HD video, while a 720p version took just 1 min 28 sec. In contrast, the iPhone 5 took 4 min 23 sec with the 1080p video, and 2 min 4 sec for the 720p. Even the iPad 4, with its powerful A5X chip, took considerably longer with the same tasks: 4 min 17 sec to output the 1080p video, and 3 min 57 for the 720p version.
A SunSpider score of 470.0ms (lower is better) means the iPhone 5s completed the test in half the time it took the iPad 4, and almost half the time of the iPhone 5, which ran it in 848ms. In the new 64-bit version of Geekbench, a synthetic test of processor and memory performance, the iPhone 5s scored 1,374 in single-core testing, and 2,389 (updated) in multi-core testing; Geekbench also confirms the handset's 1.3GHz CPU clock speed and 1GB of memory.
Unsurprisingly, then, the iPhone 5s feels fast, no matter what you throw at it. iOS 7 whips between apps with alacrity, and even heavy inboxes and big multimedia files don't cause the smartphone to slow down.
Camera
On paper, the iPhone 5s' iSight camera is 8-megapixels, just like before. However, not all pixels are created equal. The smartphone world has split off in several directions when it comes to cameras, with some chasing higher and higher megapixel counts, while others opt for bigger individual pixels or treating clusters of pixels as single points.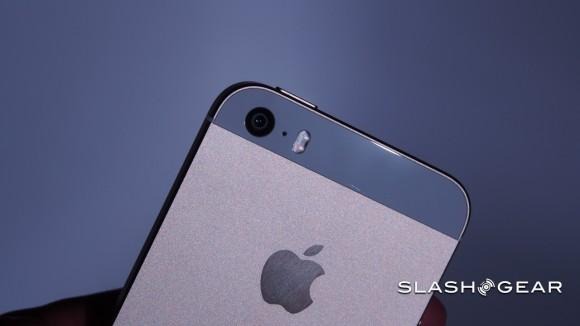 Apple's approach is to go for bigger pixels and grab more light. Compared to the iPhone 5, the iPhone 5s has 15-percent larger pixels than before, and the aperture of the lens has increased too, to f/2.2. Together, that adds up to a third more light captured in each shot, versus the outgoing phone.
It's not the first smartphone to take that approach, though Apple perhaps strikes a better balance between pixel size and resolution. HTC, for instance, opted for a relatively small number of big pixels in the HTC One, but while they're individually larger than in Apple's camera, you only get half the overall resolution. Nokia's Lumia 1020 opts to cluster groups of pixels from its 41-megapixel camera together, producing a 5-megapixel image, but if you want the full resolution there's a lag of a few seconds as the Windows Phone churns through the data.
Apple's other hardware change is the new True Tone flash. We've seen phones that have two LEDs instead of one, but the iPhone 5s gets two different colors of LED. For the first time on any camera – not just a smartphone camera – it's now possible to mix together white and amber light according to the ambient lighting of the scene. With more than 1,000 tone combinations for the iPhone to choose between, the promise is an end to sickly skin tones where the traditionally cool LED flash of a smartphone camera doesn't match warmer ambient lighting, for instance.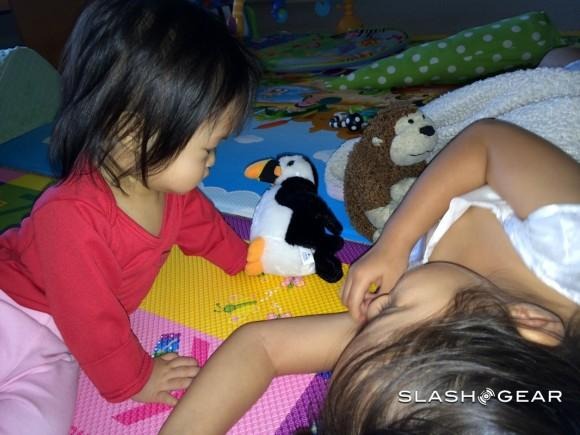 The new iPhone 5s camera is paired with image stabilization, though it's a digital system rather than optical. Whereas we've had mediocre results with digital stabilization before, however, Apple's approach is surprisingly successful. It actually combines the best parts of four rapidly-taken short-exposure images of the same scene, paring out any noise, blur, or hand-shake in the process. It's down to the new A7 ISP, which also allows for incredibly fast burst photography: 10fps, on and on with the only limit being how much storage you have. In fact, at times we inadvertently took several shots at once simply by being too casual with the iPhone 5s' on-screen shutter release button.
Thankfully that doesn't clog up the Photos app. iOS 7 now clusters images by Years, Collections, and Moments, depending on when and where you took them. Burst shots are clustered even further: you see what the iPhone 5s believes is the best image of the bunch, based on factors like crispness of focus, whether faces are in shot and if they're smiling and have their eyes open, and can then tap through to see everything that was captured, manually picking a favorite if you disagree with iOS' opinion.
The other big improvement in still photography is in panoramic capture. For a start, it's faster, but it's also done more intelligently thanks to dynamic exposure. On the iPhone 5 (and, indeed, on the iPhone 5c) the camera fixed the exposure at the start: if, as you panned around, the scene got brighter or darker, you'd end up with a panorama that was blown out or murky in places.
Apple's new A7 ISP, however, means the iPhone 5s can actually adjust its exposure mid-pan, compensating for changes in lighting. Considering many panoramic shots are taken outdoors, where the angle of the sun has a huge impact, it means an instant improvement in the overall picture. The iPhone 5s' camera is not only clever, it's clever in a very usable way.

As for video, Apple has stuck with 1080p for the iPhone 5s, rather than looking to Ultra HD. That strikes us as sensible – Ultra HD displays are still rare in most homes – especially given what features have been added instead in this generation. Slow-motion recording, for instance, can now capture clips at 120fps for silky-smooth quarter-speed slo-mo playback (albeit at 720p not Full HD); by default the iPhone slows down the middle section of the clip, but you can adjust that so that everything is slowed, or simply a different section, complete with matching audio.
iOS 7
Apple says iOS 7 is the biggest change to iPhone since the first-generation handset, and we agree. We've comprehensively reviewed the new platform in our separate review, which we'd recommend reading alongside our iPhone 5s review.
Beyond the new interface design, the key features include quicker access to settings and notifications with the new Control Center and Notification Center, accessed from anywhere in iOS 7 with an upward or downward swipe respectively. There's also a new multitasking interface which now shows a preview of the app's current status rather than just its icon.
Safari has been considerably improved, spending more time in full-screen mode to make the most of the 4-inch display. A new tab view makes navigating between open pages more straightforward, and the split address box and search box layout in iOS 6 and earlier have thankfully been replaced with a single, unified box that cuts down on mis-taps.
One of our favorite features in iOS 7 Safari is the new Shared Links view, which pulls all of the recent URLs shared by the people you follow on Twitter. We'd love to see that extended to support links shared on Facebook and other social networks too.
In Music, there's now support for iTunes Radio, Apple's streaming alternative to Pandora. Out of the box you get support for listening to preset radios based on musicians and musical styles, along with creating your own custom stations based on artists, tracks, or albums, with a limited number of track-skips supported. Stations can be adjusted between playing similar tracks or helping you discover new artists by spreading the net a little wider. Pay the $24.99 per year for iTunes Match and the adverts in iTunes Radio are dropped too.
Siri has been boosted in iOS 7 as well, with the most noticeable change initially being a refreshed voice that sounds more natural than before. However, the virtual personal assistant can also do more now, including searching Wikipedia, Twitter, and Bing for answers to queries, controlling settings like toggling wireless radios and turning on Do Not Disturb, and even controlling iTunes Radio, including switching stations and down-voting the currently playing track.
The other big change in iOS 7 is what you get free. Those who buy a new iOS 7 device – rather than upgrading their existing device – will find free copies of Apple's own iWorks suite (Pages, Numbers, and Keynote) along with iPhoto and iMovie waiting for download. That's almost $40 of content-creation apps.
Phone and Battery
The iPhone 5s supports UMTS/HSPA+, DC-HSDPA, and LTE, with up to 100Mbps support, network-depending; select models get CDMA/EV-DO Rev.A. All have WiFi a/b/g/n (2.4/5GHz) – though not 802.11ac – Bluetooth 4.0 LE, and GPS/GLONASS.
Unfortunately, even with more band support in a single device, the proliferation of LTE network frequencies across the globe means that Apple still can't produce just one version of iPhone 5s that works on all of them. In total, there's support for 37 bands, with five different variants depending on carrier and geography.
Despite the faster chip and increase in LTE bands, Apple claims battery life is on par with what the iPhone 5 delivered. The iPhone 5s is rated for up to 10 hours of 3G talk time or up to 250 hours of standby, or alternatively up to 8 hours of 3G web-browsing (or 10 hours over either LTE or WiFi). Up to 10 hours video playback or up to 40 hours audio playback is suggested from a single charge.
In practice, with heavy use – push email turned on, use of Apple Maps GPS, photography, iTunes Radio streaming, messaging, browsing, and some gaming – we managed a solid day of use from the iPhone 5s before hitting the battery warning.
Wrap-Up
The iPhone 5s is the best iPhone so far, by a long shot. Apple is notorious for describing its products as "magical". The magic of the iPhone 5s is in how usable its improvements are. The updated camera is both fast and capable, with the True Tone flash proving itself to be no gimmick, while the Touch ID system feels like the first biometrics system that actually stands a chance of succeeding in the mass market.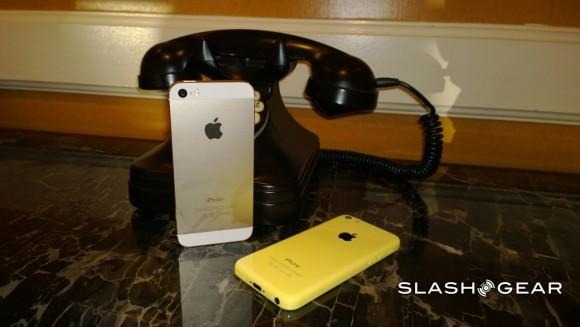 Best of all is the performance. iOS 7 may take some getting used to for those familiar with earlier versions of iOS, but the combination of its improvements like iTunes Radio, more refined access to multitasking, controls, and notifications, and the new Apple A7 chip means the iPhone 5s simply flies. Exactly how much of that refinement is down to the transition to 64-bit is, perhaps, immaterial to the user, though it sets iOS 7 up well for the future.
Would we pick the iPhone 5s over the iPhone 5c? In a heartbeat. The camera, convenience, and performance increases make that a no-brainer decision for smartphone power users. That trifecta of talents also makes a strong case against the top-tier Android devices, too: Apple still dominates the market for hand-friendly phones with flagship performance. The iPhone 5s may be Apple's evolutionary stage, but the combination of usable technological advances and the benefits of iOS 7 add up to a supremely compelling device.