iPhone 5c Review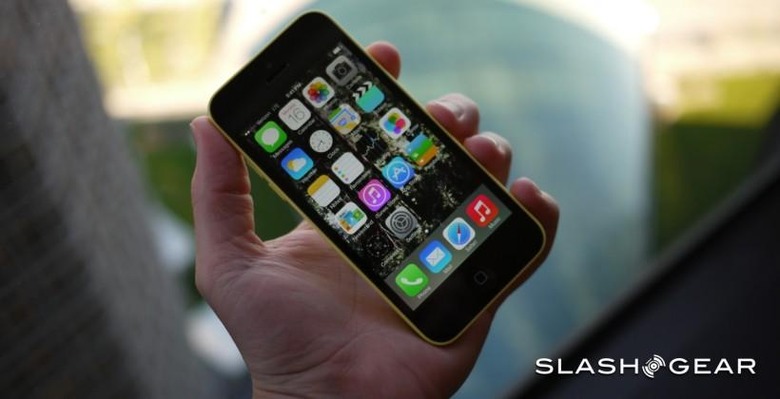 Could the iPhone 5c be the most misunderstood iPhone so far? From early whispers of a budget model for emerging markets, though chatter of a new entry-level phone, the iPhone 5c in fact slots right in the middle of Apple's range, relegating last year's flagship to early retirement and leaving the iPhone 4S to survive another day. It also borrows some color from the iPod line, not to mention launching with iOS 7 and a case material we've not seen since the days of the 3GS. So, plastic fantastic? Read on as we put the iPhone 5c through its paces in the full SlashGear review.
Design
Apple left plastic behind several years ago, switching first to glass with the iPhone 4 and then to metal with the iPhone 5. Even back then, the iPhone was a sober, monochromatic affair, available only in black or white.
Nobody could describe the iPhone 5c as being sober. In fact, there isn't even a black version on offer, instead white, pink, yellow, blue, and green. Each uses a sturdy polycarbonate, the shell of which is a single, seamless molding for the back and sides of the phone. Unlike, say, Nokia's polycarbonate-bodied Lumia handsets, Apple's has a high-gloss finish thanks to a hard coating that does a good job of hiding scratches and shedding greasy fingerprints with just a quick wipe.
The 4-inch Retina display is slotted into the front of that shell, making the whole casing a two-component design. The usual headphone and Lightning ports are along the bottom, just as on the iPhone 5s, as well as a mono speaker. The power button, ringer switch, and volume keys are in their usual place, but now made from body-colored plastic, while the nano-SIM tray also matches.
Plastic can feel cheap and flimsy, but Apple has avoided that by combining it with a steel frame that, though invisible from the outside, leaves the iPhone 5c resilient to flexing and pleasingly dense in the hand. Meanwhile, it also works as the handset's antenna, since for the first time in a few generations of iPhone that's not an external part.
In addition to the five core colors of iPhone 5c, Apple has come up with six cases – white, yellow, blue, red, green, and black – meaning you can either opt for a matching or contrasting combination. The cases themselves, each $29, are made of matte silicone with a microfiber lining, and have cut-outs for the camera, ports, and ringer switch, along with push-through keys for volume and power.
They also have a 7x5 grid of holes punched out of the lower rear, allowing the color of the phone underneath to show through. It's certain distinctive, and we like how a little of the underlying case color also shows around the display bezel even when the case is on, though the partially-obscured "iPhone" text doesn't look quite as polished.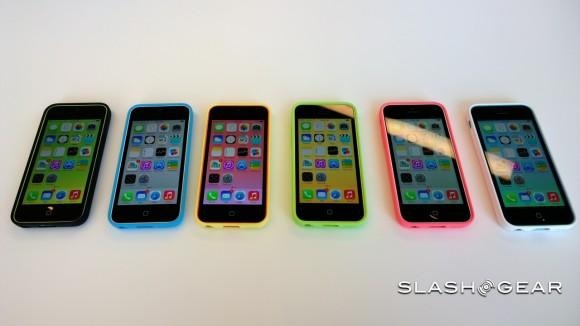 Usability and Performance
Get past the polycarbonate and you're on familiar territory with the iPhone 5c. In fact, inside it's pretty much the same as the outgoing flagship, which means you get the Apple A6 chip and 8-megapixel iSight camera. One important difference is in the connectivity: WiFi a/b/g/n (2.4/5GHz) – though still not 802.11ac – is included, as is Bluetooth 4.0 LE, but the iPhone 5c follows the iPhone 5s in boosting LTE support to as many as 13 bands per handset.
Apple will offer five versions depending on cellular bands – covering variations on HSPA+, DC-HSDPA, EV-DO Rev.A, and a pick of LTE bands from a total of 37. There'll also be two storage variants: 16GB or 32GB, priced at $99.99 and $199.99 respectively with a new, two-year agreement.
Given the hardware similarities between the iPhone 5 and the iPhone 5c, it comes as little surprise that the new phone feels much the same in use. Apple's freedom to tailor its software to its hardware means that, even at a year old, the A6 keeps iOS 7 running smoothly.
iOS 7
We've comprehensively reviewed iOS 7 in our separate review, which we'd recommend reading alongside our iPhone 5c coverage. Suffice to say, Apple's latest version of its mobile platform marks the biggest change since the iPhone first launched.
On the iPhone 5c, out of the box iOS 7 comes color-themed to match the casing finish. It's a neat touch, though you can optionally change it if you prefer. The new UI looks good, but more importantly it brings commonly-accessed features to the fore: swipe up from the bottom of the phone, for instance, and you get the new Control Center, complete with wireless toggles and shortcuts to the calculator, camera, stopwatch, and more. Swipe down from the top, meanwhile, and you find the new Notification Center, complete with synchronization of whatever you dismiss across all iOS devices logged into the same iTunes account.
Safari now defaults to full-screen mode, making the most of the iPhone's 4-inch display, while there's a new tab view to streamline navigation between open pages. The address and search boxes have been unified into a single field. We're particularly pleased with the new Shared Links view, which grabs recently shared links from your Twitter followers.
iTunes Radio has been added to the Music app, offering an alternative to Pandora. Free membership gets you ad-supported streaming via both preset radios – based on musicians and musical styles – and your own custom stations based on artists, tracks, or albums. As with Pandora, you can make a limited number of track-skips, while stations can be adjusted between playing similar tracks or helping you discover new artists. Enrolling in iTunes Match for $24.99 per year and you can get rid of the periodic adverts.
As for Siri, Apple has introduced more natural sounding male and female voices, but the functionality has also been broadened. Siri can now search Wikipedia, Twitter, and Bing for answers to your queries, as well as control settings like which wireless radios are active. There'a also support for controlling iTunes Radio, including switching stations and down-voting the currently playing track.
As of iOS 7, Apple is offering free copies of its iWorks suite (Pages, Numbers, and Keynote) along with iPhoto and iMovie, $40-worth of content-creation apps. You'll need to buy a new iOS 7 device to qualify, however; those who upgrade won't get the same deal.
Camera
The iPhone, Apple is keen to point out, now the most popular camera in daily use. On the iPhone 5c, that means the well-respected 8-megapixel iSight camera from the iPhone 5, complete with an LED flash and 1080p video recording.
In iOS 7, you get a new camera app with easier switching between the various modes: side-swiping takes you from recording video, to stills, to a new square aspect camera (for those modern-day Polaroid moments), and finally to panorama capture. Photos and square photos can optionally have a filter applied, complete with a live preview of each, and flash/HDR settings are now accessible from a bar at the top of the app rather than demanding you dig into a settings page.
It's also there that you can flip between the main camera and the front-facing FaceTime HD camera that now captures up to 720p footage. Unlike the iSight camera, Apple has updated the front-facer with bigger pixels and new backside-illumination (BSI) technology for improved low-light performance. The main camera delivers the same performance as the old iPhone 5 did.
Unfortunately, it also means you miss out on some of the more impressive photography features found on the iPhone 5s. There's a panorama mode, but none of the dynamic exposure during capture that the more expensive phone offers; similarly, you don't get slo-mo video recording, burst mode, nor the True Tone flash with its color-mixing abilities.
Phone and Battery
With as many as thirteen LTE bands per variant, the iPhone 5c can get online at 4G speeds in more places than ever before. Happily regular call quality proved satisfactory too, with smartphone clinging tenaciously to the Verizon network of our review device.
As for battery life, Apple claims up to 10 hours of 3G talktime from the iPhone 5c or up to 250 hours of standby; alternatively, a full charge is said to be good for up to 8 hours of 3G internet browsing (or up to 10 hours on either LTE or WiFi). You could also have up to 10 hours of video playback or up to 40 hours of audio playback.
In practice, we saw better performance than we did on last year's iPhone 5. With typical use – push email turned on, some multimedia playback, use of the camera, nearly an hour of GPS navigation, and some browsing over both LTE and WiFi – we still ended the day with charge to spare. The iPhone 5c may lack the frugal M7 coprocessor Apple introduced with the iPhone 5s, but whether it's iOS 7's optimizations, the new 4G radios, what's believed to be a slightly larger battery, or some combination of the three, we're now far more confident about spending a day out of reach of a Lightning charger cable.
Wrap-Up
For a long time, we expected the 5c to stand for "cheap". In actual fact, it's "cheerful"; the iPhone 5c brings a welcome blast of playfulness to Apple's line-up, and with the five bright colors on offer (not to mention the affordable cases) we can easily see some shoppers drawn more to the peacock hues than the relatively sober gray, white, or gold iPhone 5s.
Unfortunately, in doing so they'll miss out on the 5s' obvious advantages above its more affordable, plastic-bodied cousin. The combination of the clever A7 and M7 processor pairing, admirable camera, and workable biometric security mean the iPhone 5s remains our pick of the range, even with the promise of a $100 saving up-front. Frankly, we'd pay twice that for the enhancements the new flagship offers.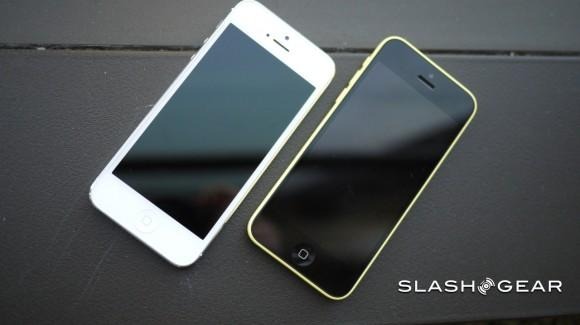 We're not, however, Apple's only audience, and while the iPhone 5c may be, for the most part, last year's flagship in this year's fashion, there's no denying that there's an appetite for that. The iPhone 5 remained an excellent option up until its (perhaps premature) retirement, and the iPhone 5c takes the best of that and makes it more eye-catching and more affordable. The power users should look to the iPhone 5s, but for the mass market, the iPhone 5c will open doors that only a colorful, playful device can.