iPhone 5 Name Confirmed By Apple Site Search Goof [Update: LTE Too!]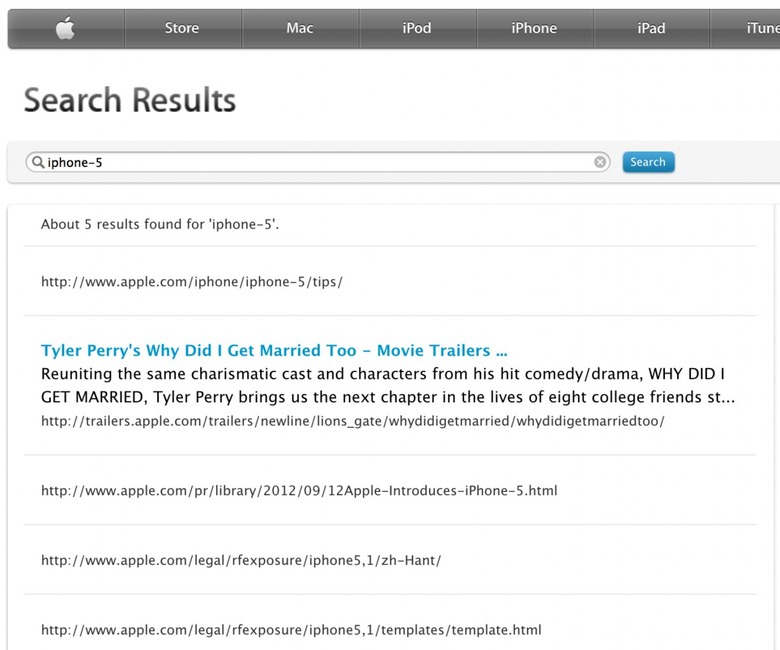 Apple's own search tool has apparently confirmed the name of the iPhone 5, with the company's site showing links – currently unresolved – to the new smartphone's press release. The name of the new handset has been widely discussed, with some expecting Apple to follow the example of the "new iPad" and simply call its updated handset the "new iPhone."
However, if the search results are to be believed, Apple has kept with tradition and followed the iPhone 4 and iPhone 4S with the iPhone 5.
9to5Mac, which spotted the search goof, also discovered that there's a prematurely prepared URL for a new iPod touch and iPod nano press release. As with the iPhone 5, there's no actual detail confirmed – we only have URLs, and clicking them gets a 404 error page – but it's at least confirmation of rumors that new iPods were also in the pipeline.
We'll know all the details at Apple's press event earlier today, which SlashGear will be liveblogging from 10AM PT (1PM ET; 6PM UK). Join us at live.slashgear.com for all the news as it happens!
Update: Some more search shuffling turns up apparent confirmation that there will be LTE, 9to5Mac discovers: