iPhone 5 launch date imminent as 4S included in "recycling" program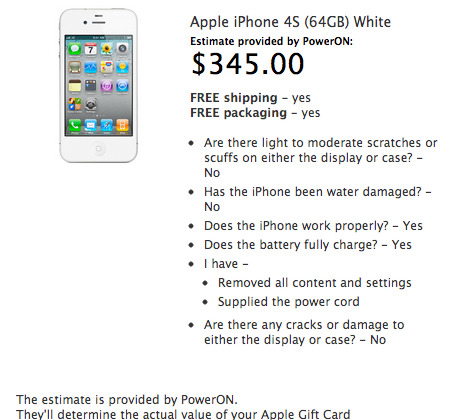 Apple has launched a program on their own website called Reuse and Recycling in which they're more than willing to take your iPhone 4S for a gift certificate in their store. Of course the main reason a lot of people will be doing this is that once the iPhone 5 (or whatever it'll be called) is on the market, the iPhone 4S might not look so fabulous anymore. To the early adopter "must have it" crowd, that is.
This program has the ability to take in not only your iPhone 4S, but a collection of other Apple devices as well as non-Apple gadgets too. The front page for this program shows an iMac, iPad, iPhone, two iPods, and a lovely old button-toting phone from the distant past. It also has the white MacBook, no longer sold by Apple brand new.
This is all part of Apple's "Apple and the Environment" initiative of course as well, making it clear to users around the world that they are indeed Green. You'll be assured in this Recycling initiative that your units will be either reused or recycled in environmentally friendly ways, and you'll get more than just a warm feeling in your heart – you'll get Apple money.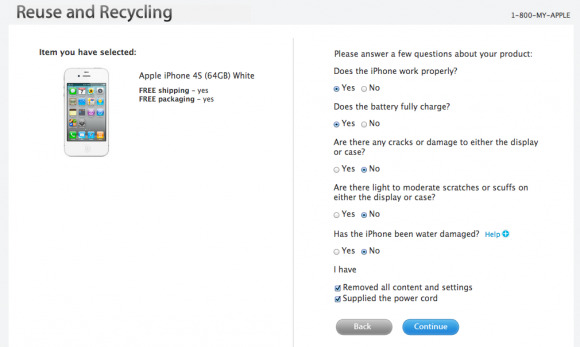 Apple won't be tossing any cold hard cash in this program, but they will be giving you credit in their store. Gift Certificates are one of the reasons you'd send in your old gear, a no-cost-to-you offer to get rid of all your gadgets that otherwise would push us closer to a garbage-filled planet is another. If you send in your old iPod or mobile phone that's not included in the main Gift Certificate part of the program, you'll either just be able to send it in for recycling for free, (a great deal by itself), or you'll be able to bring it in to an Apple Retail Store and get 10 percent off a new one.
NOTE: This 10 percent offer does not apply to the iPod shuffle – Apple says so!
And of course what's rather important about this situation is that the iPhone 4S is included in it. There's no other reason for Apple to want to include their newest hero phone in a program like this where you'll get gift cards back for the unit except for the idea that an even newer model is right around the corner – except of course if you've got a damaged iPhone 4S and want a new one: they take damaged units, too.