iPhone 5 HD photos appear with specific measurements

If you were looking for a set of high-definition photos of the new iPhone 5 (or whatever they'll end up calling it) next to the iPhone 4 AND the iPhone 3G, today's you're lucky day. Today a collection of photos have been revealed by SoHu.com where they've gotten their hands on what appears to be an iPhone 5 case model – handed out to 3rd party accessory manufacturers so that they might know the shape and size of the device before it's released. Here you'll see the next iPhone – or this heavily trafficked model that certainly appears to be the iPhone 5 – next to a couple of its predecessors as well.
The folks at Sohu have gotten their hands on a measured model of Apple's newest iPhone as well – showing it to be 124.46 × 58.58 × 7.41mm. They compare this set of measurements to the iPhone 4/4S which come in at 115.2 × 58.6 × 9.3mm. This tells us that the new iPhone is almost exactly the same width of the iPhone 4/4S but is certainly taller by about 10mm. This also shows that the new iPhone is just about 2mm thinner than the previous iPhone, as you can also see in the picture below.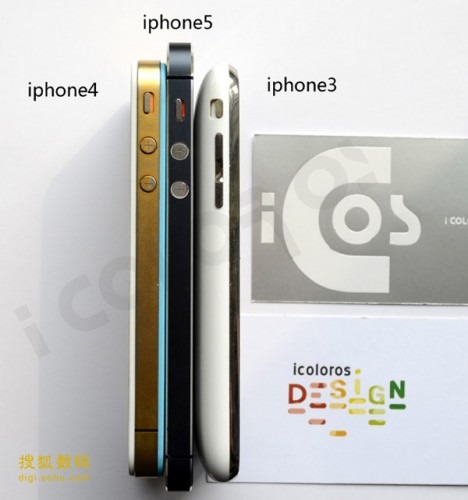 This image also shows that the new iPhone will be working with much slimmer sections of glass on top of and on back of the device – though we've seen here and before that the back of the device will very likely be mostly aluminum with a couple sections of glass at the top and bottom for signal strength. The sides of the device appear to have two section breaks and the same sized volume buttons as well as screen lock – and the screen lock has a slightly smaller section of red coloring whilst locked, too.
The iPhone 5 will very likely take on a whole lot smoother appearance as far as individual bits and pieces than we expected when the first "renders" were shown off weeks ago. Here we're seeing an iPhone that seems downright Apple-worthy – realistic, that is. Have a peek at the timeline below to see additional important news blasts and/or tips and leaks in the history of the release of this device and stay tuned for more! The next-generation iPhone has been rumored to be making its first appearance next month!
[via NWE]