iPhone 5 Gets "Hypothetical" Cost Breakdown By Bloomberg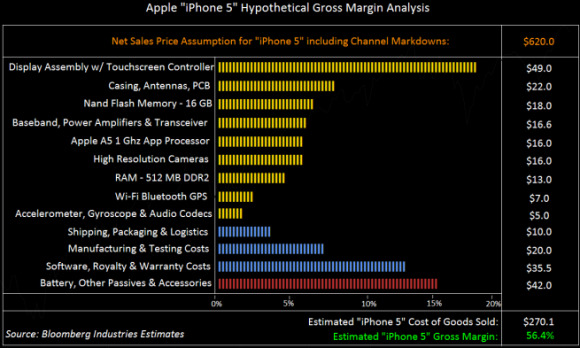 The iPhone 5 will land with much fanfare come this September or October when plenty of eager fans will line the streets to fork over some serious cash for this next-gen device. But what will they likely be getting in terms of specs? To answer that question, take a look at this "hypothetical" bill of materials.
Bloomberg, which has deep industry connections, may have some insider information that they're revealing in a chart titled "Apple iPhone 5 Hypothetical Gross Margin Analysis." It's essentially a breakdown of the component costs for the next-gen iPhone, listing its total bill of materials to be around $270. This figure is quite a bit higher than previous BOMs for the iPhone 4, but it may be because it's also taking into account costs beyond just the hardware.
There isn't an accompanying article for the graphic yet and so there aren't any specific details or explanations for the analysis. The parts listed are also generic component names such as "high resolution camera" instead of the rumored 8-megapixel camera. However, the breakdown does indicate a 1Ghz A5 processor and 512MB of RAM.
[via 9to5 Mac]