iPhone 5 4-inch Retina display detailed with massive resolution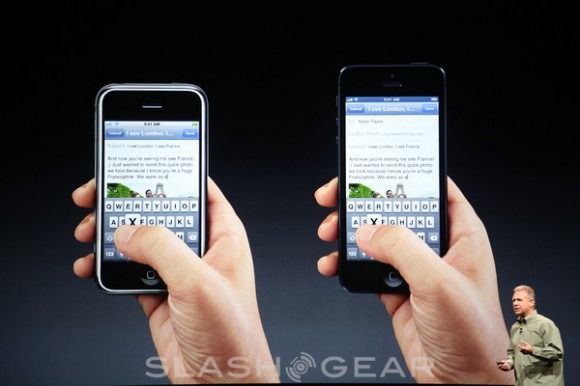 The iPhone 5's display has been revealed today at Apple's press event, bringing with it a lovely 1136 x 640 screen resolution with 16:9 aspect ratio across 4-inches of space. This device will be rolling out with a Retina quality display, mind you, at 326 PPI, amongst the most high-definition on the market today. This display offers a 5th row of icons for the iOS 6 experience and still fits in our hand with the same width as the iPhone 4S and before.
This device has also been shown to be bringing an improved camera on the back – though it is still called 8 megapixels, it's a big boost, as well as audio and video enhancements as well. The iPhone 5 will come with three microphones for better noise cancellation than ever before as well as an improved A6 chip under the hood. The iPhone 5 is set to bring on a new era of mobile products for Apple with its new 16-pin port plug for USB and will be coming soon to an Apple store near you.
Check the timeline below for more instant updates on the event surrounding this next-level device and of course hit our Apple portal as well for continued coverage as the device hits stores!