iPhone 4 with iOS 5 gets speed test video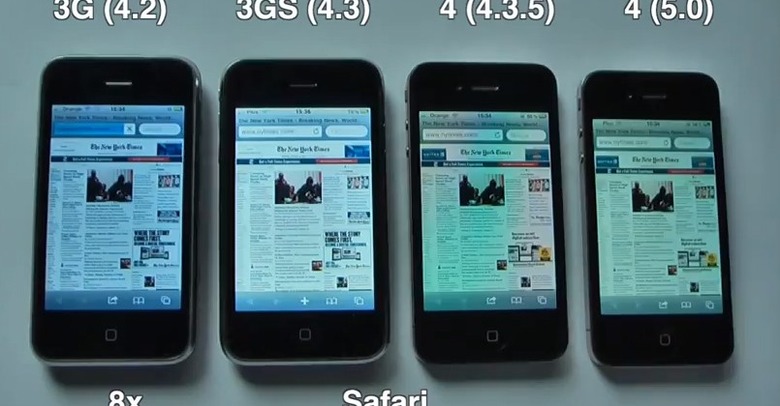 Apple released iOS 5 to the masses yesterday and if you're curious how the update performs on an iPhone 4 compared to an iPhone 4 still running iOS 4.3.5, then here's a video that does a side-by-side speed test. Not only does the video compare two iPhone 4 devices running different iOS versions, it also includes the iPhone 3G running iOS 4.2 and the iPhone 3GS running iOS 4.3.
Various features and apps were tested across all four devices with the iPhone 3G unsurprisingly lagging behind most of the time. But it's pretty close between the two iPhone 4 devices, depending on which feature or app was being launched. Generally, when it came to accessing the iPhone's settings, Safari, search results, email, camera, and weather app, iOS 5 came out ahead.
But the results weren't as certain when it came to launching games. For instance, starting Angry Birds was slightly faster on iOS 4.3.5 as was launching Fruit Ninja. And with the game Cut the Rope, the iPhone 3GS running iOS 4.3 was by far faster than both iPhone 4 devices. If you're still deciding whether to upgrade to the iOS 5 for your current iPhone 4, check out the video below as well as our iOS 5 review. And if you're thinking about completely upgrading to the latest Apple handset, make sure to read our full iPhone 4S review.