iPhone 4 Joins the Ranks of Gadget Tables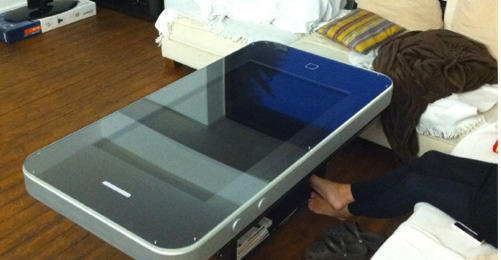 We can't really say for sure when, but at some point someone gave the go-ahead for gadgets to be made into tables (or, what makes them tick). We understand that you want to show off how awesome your favorite gadget is, but there's got to be a better way. That didn't stop this designer from making the iPhone 4, the latest iPhone from Apple, into a centerpiece that all of his friends would be jealous of.
Unlike most of the other gadget-centric tables out there, this one's not for sale. And, you shouldn't expect to see it in your favorite store any time soon. But, you can make it yourself. The designer has mentioned that they will make the plans "public" soon enough, but for now they seem to be keeping it to themselves. It certainly does have a striking resemblance to the iPhone 4, doesn't it? That is a lot of glass up there. And hey, it's not nearly as imposing (or as bad) as the PlayStation controller table, is it?
[via MacStories]