iPhone 3rd Party Apps to be announced at WWDC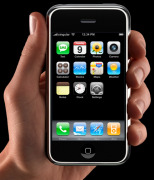 So we know when it's coming, now it's a matter of finding out what will run on it.  Apple broke a few programmers' hearts when they denied third-party application support on the iPhone, leading many to decide it fell into the "fashion" rather than "smart" categories.  Steve Jobs whipped up a little excitement at D5 last week, however, by saying support would actually come later on this year, and now the NYTimes are corroborating with some insider information:
"A person briefed on Apple's plans said that at its software developer conference this month, Apple intends to announce that it will make it possible for developers of small programs written for the Macintosh to easily convert them to run on the iPhone"
The Giz boys are thinking that this means an easy way to convert existing (and new) Widgets from OS X desktop format into something iPhone compatible.  It would certainly make more sense than introducing an entirely new coding format and asking programmers to learn it in order to fashion things for iPhone.
To many, 3rd party applications could mean the difference between the iPhone being an attractive but mainly entertainment-based handset and a real business device.  We'll have to wait and see what other tidbits come at WWDC...