iPhone 3G in the house!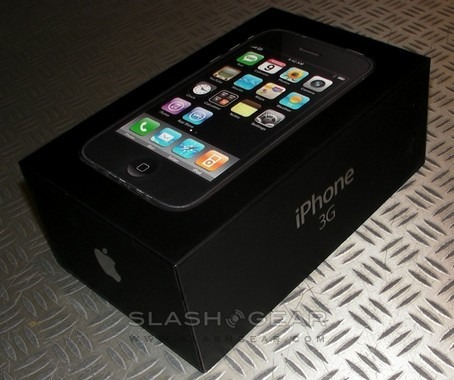 Here she is folks – iPhone 3G. The iPhone 3G is launching this morning starting on the east coast at 8AM, and I have right here our very own iPhone 3G.
First thing I noticed is that in the hand, despite the swollen dimensions, the second-gen iPhone feels just as, if not more, svelte than its predecessor.  The touchscreen display is unchanged and just as responsive, while the buttons have sharper edges and feel 'clickier' and more precise.  Click through for more images and unboxing ceremony video.
For now, enjoy the quick unboxing and walkthrough of the iPhone 3G.  I should have enough time through out the day to write up a more detailed review, so make sure to check back later this afternoon.  Feel free to ask questions and tell me if there's anything specific you want to know about the iPhone 3G.
iPhone 3G Unboxing and quick demo