IPad2 Launch, lines not too crazy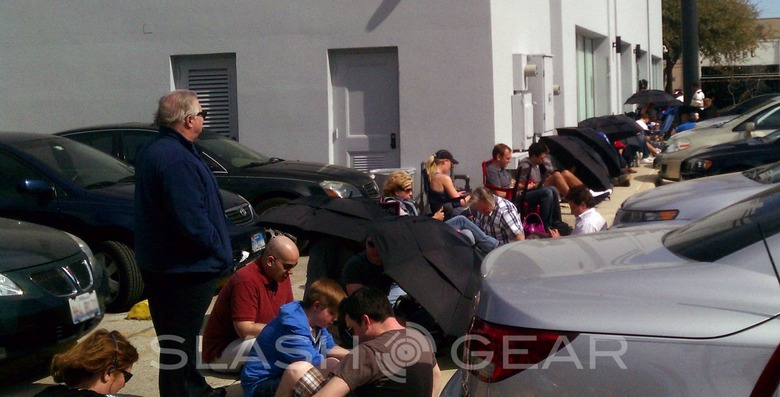 Today is a big day for technophiles everywhere. Apple is about to release their latest and greatest, the iPad 2. I went to take a look at the hooplah and see what was going on. Lines are stacking up outside of Apple stores around the Dallas/Fort Worth Metroplex. When we left the Dallas retail location there were already sixty-six people lined up outside, and there are still a few hours left to go until they let them in. A little earlier in the day, there were already eighty people stacked up outside of the store in Northpark Mall.
Northpark Mall had a cordoned off section for the people waiting. Nobody in that line had been waiting for more than a couple of hours. As we were leaving, Apple reps had just started handing out bottles of SmartWater to their loyal customers waiting to get their hands on their new iPad. And not necessarily for themselves, as we walked away from one interviewee she exclaimed, "We're all in line for our husbands!"
The Knox-Henderson store is a little crazier, but still well within the bounds of sanity. There is a string of people lined up around the side and back of the store. The vast majority were huddled under Apple-provided umbrellas and swigging the SmartWater that Apple has been handing out to the people in line. There was one gentleman who had been camped outside of the store since Sunday. Okay, that might be a little crazy.
Will all of these people get to take one home? I doubt it, but it seems like it's been a fun attempt for all.
We have some interviews via Robert Evans of i4u News.