iPad shipping announcement escalates Apple shares to record high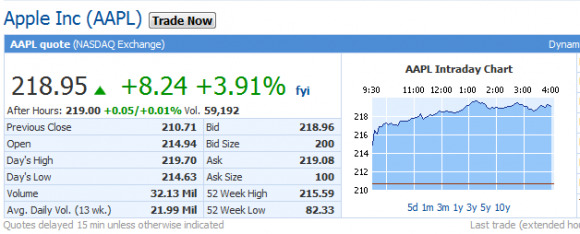 Apple shares previously hit a record high when Apple's "product announcement" date was released late December, inducing tablet fever and all, so it's not at all surprising when AAPL stock soared to another record high today largely because of the same tablet-related news.  If you somehow haven't heard yet, this time around the hubbub is over the confirmation of the iPad's shipping date.
AAPL shares hit a record high of $219.36 this afternoon after iPad preorder and order details were announced, the former starting March 12th, and the latter, a delivery date of April 3rd.  The market closed with Apple shares at $218.95, up roughly 4%.
It's gratifying to finally have a concrete release date for the iPad from Apple, something that we can adhere to for the next month or so, til Apple stores be flooded (launch date's a Saturday).