iPad prompts iPhone OS developer spike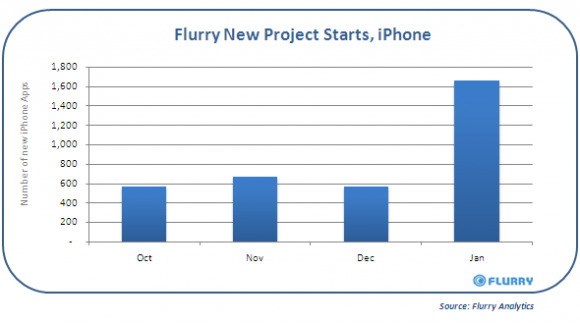 Give developers the promise of something new to play with and, well, they'll probably start playing.  That's the bottom line from Flurry Analytics, who you might remember from their iPad predictions prior to the Apple tablet's launch; they're back with some new app stats, and they're claiming January 2010 saw an almost threefold jump in iPhone OS projects starting.
In fact over 1,600 iPhone OS applications were begun in January 2010, the largest single spike since the analytics company began measuring them.  Flurry reckon that it's iPad mania driving the developers, as they rush to get custom iPad versions of existing and new titles ready for the tablet's nearing launch.
Apple have done their part to push this, of course, by making the iPad run the same iPhone OS as their wildly successful smartphone.  The iPad can run most existing iPhone software, either at its regular size centered in the middle of the display, or in a zoomed-in mode that's basically pixel-doubling.  However the company have also promised to put iPad-specific titles front and center in the App Store, a promise which developers are obviously looking to cash in on.
[vms f030b4f67eeaeba30110]