iPad prices slashed hinting new models are coming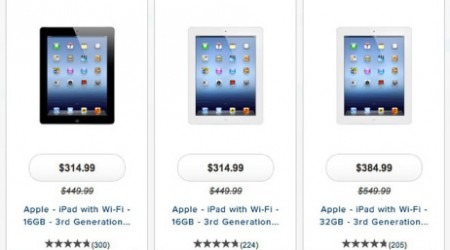 Apple is one of the most secretive companies in the technology world. Short of one of its employees getting drunk and leaving a new product behind at a bar, and the occasional leak from a case manufacturer or manufacturing partner out of China, we typically hear nothing about new Apple products until they launch. This spawns hordes of rumors and lots of people who watch the Apple Store and Apple resellers for any indication of changes.
One of the things that has proven to be somewhat successful in predicting the pending launch of new products is price cuts on existing products. Apple isn't known for reducing prices because it really doesn't have to. Consumers continue to buy its products at full price and often the first time we see price cuts is an indication that new products are coming.
We mentioned yesterday that the Apple Store was off-line and speculated on what changes might be in store. The store came back up and the change was the addition of the new iPad model. That new model is a 128 GB version of the current iPad. Prices on other iPad models from Apple remain the same. However, other resellers of the iPad instituted significant price reductions this week.
Earlier this week major Apple resellers including Walmart, Best Buy, and MacMall started clearance sales on third-generation iPads. These were significant cuts to the tune of 30%. Best Buy is now offering the 16 GB Wi-Fi only third generation iPad for $314.99 with the 32 GB version available for $384.99. These price reductions could hint that Apple may be getting ready to launch new iPad models.
[
Fortune]