iPad Official Accessories Review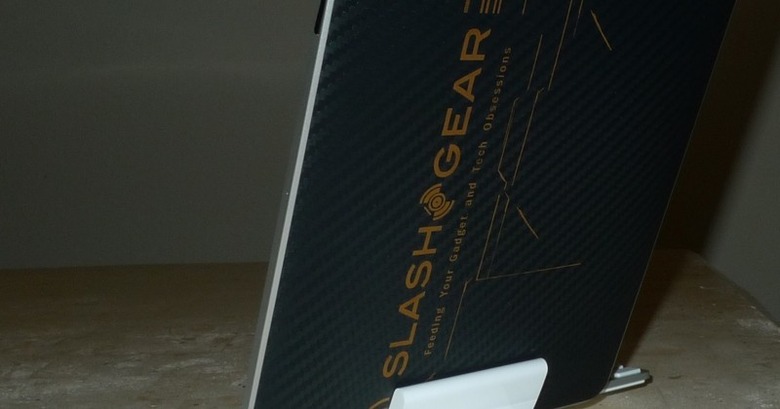 While you don't get much in the way of extras in the box with the iPad, Apple sent us away with a bag full of official accessories to play with. Apple have a range of six items intended to be used with your iPad, though not all of them will be available on launch day. After the cut, check out our unboxing video, gallery and some hands-on impressions with the  iPad Dock, iPad Keyboard Dock, iPad Case and iPad 10W USB Power Adapter.
Perhaps the most eagerly anticipated accessory is the iPad Keyboard Dock ($69), a way to both charge the iPad and enter text without relying on the on-screen keyboard. The dock itself feels just like a basic stand fixed to a full-sized Apple keyboard, just like you'd find with a desktop Mac, and the key-response is just the same. However there are useful shortcuts – Home, Spotlight, brightness, picture frame mode, screen lock and a trigger for the onscreen keyboard – together with a dock connector (which you can use with the power supply, VGA adapter or one of Apple's A/V cables) and a 3.5mm audio output for speakers or headphones.
It all works as you'd expect, though we wish you could detach or at least extend the keyboard so as to move it further away from the iPad. Some sort of flexible mount – with which you could adjust the angle at which the tablet it held – would also be nice. Still, while the onscreen keyboard works well (in landscape mode, certainly), we'd definitely reach for the Keyboard Dock for anything longer than emails or basic document editing. Perhaps we're wrong for wishing for a USB port or two, so that we could plug in a printer, but since that's not something iPhone OS even supports at this time, it would only add to the cost.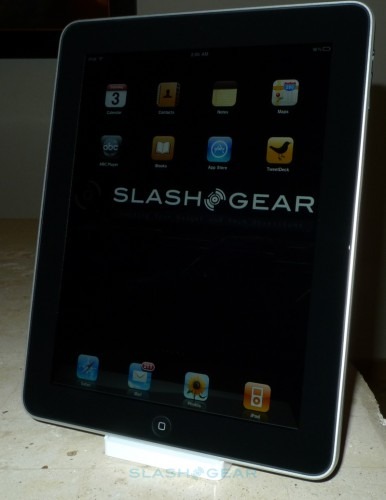 The iPad Dock ($29) is the basic version of the iPad Keyboard Dock, and it's one thing we think Apple should have included in with the tablet itself. Connectivity consists of a single dock connector and a 3.5mm audio output, the latter of which can be used to hook up a set of speakers; there's no PSU included, though, so you'll need to use the one that comes with the iPad.  As a place to keep the iPad recharged, it works a little easier than reaching for the cord, and of course it keeps it propped up for hands-free use.  Still, that would arguably be most helpful when watching videos, and since the iPad lacks a side-positioned Dock Connector that's not something the iPad Dock can help with.
Apple's iPad 10W USB Power Adapter ($29) looks just like a MacBook PSU in miniature, down to the removable power cable; there's a six-foot cable in with it, rather than the PSU bundled with the iPad itself that plugs straight into an AC outlet. It also comes with a USB to Dock Connector cable. Not much you can say about a power adapter, frankly, but at least it's reasonably small and – Apple say – it will recharge your iPad faster than a USB port can manage.
The iPad Case ($39) works as a combination folio and stand, and to be honest we've had mixed feelings about it. While the price is certainly a lot less than you'd pay for a leather case, the general feel of it is uninspiring. Still, the interior is microfiber lined and seems soft enough not to unduly scratch your iPad, and it does prop the tablet up at a useful angle.  That's helpful both for video viewing and for typing, with the landscape-orientation onscreen keyboard a whole lot more usable when the iPad is at a traditional keyboard angle.  We've a feeling, though, that less bulky jackets will be in favor for iPad owners, since the Apple iPad Case makes things feel quite chunky.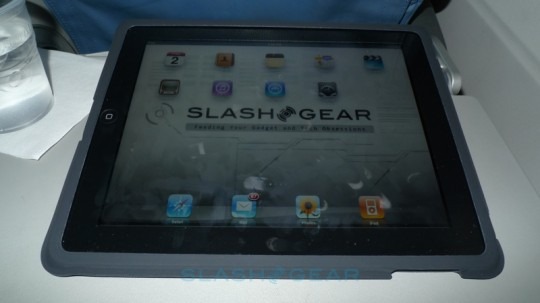 Still to come, of course, are Apple's iPad Camera Connection Kit ($29) – a pair of adapters, one with an SD reader, the other with a USB port, that plug either directly into the iPad's Dock Connector or into one of the desktop docks – and iPad Dock Connector to VGA Adapter ($29), the latter being perhaps one of the more useful iPad accessories if you want to use your tablet for proper work.  We can imagine pairing it with the iPad Keyboard Dock, for instance – plugging it into the secondary Dock Connector on the back of the other accessory – to create a mini-office of sorts. Of course, if you're out without your Dock or Keyboard Dock, you'll have to use a Bluetooth keyboard with the iPad, or work using the onscreen 'board. It's also worth remembering that the adapter only supports up to 1024 x 768 resolution, a little more than a netbook.
Official iPad Keyboard Dock and Case unboxing:
[vms 76138166de32772b1bf4]