iPad most satisfying tablet in 2013 says J.D. Power research

Apple's iPad remains the most satisfying tablet for US users, new J.D. Power consumer research suggests, though Amazon's Kindle Fire range is close behind the Cupertino slates. The iPad scored 836 out of a possible 1,000 points in J.D. Power's 2013 US Tablet Satisfaction Study, with owners questioned on the five categories of performance, ease of use, styling & design, features, and cost. The survey also found that more than half of those with a tablet share their slate with at least one other person.
Apple's overall score of 836 was buoyed by particular strengths in four of the five categories: performance, ease of operation, styling & design, and features. In contrast, Amazon's tablets – which scored 829 out of 1,000 – did particularly well in the cost category. 1,857 tablet owners were questioned in February 2013 as part of the research.
Interestingly, while Apple sold a whopping 19.5m iPads in its most recent financial period, J.D. Power's research indicates that those who already own a tablet are less likely to add to or replace their slate collection any time soon. In 2012's study, 37-percent of owners said they intended to buy a new tablet within the space of the coming year; in 2013's survey, that number has dropped to 27-percent.
Overall satisfaction, however, is higher when the tablet is a communal device. In fact, those who are sole users of tablets ranked satisfaction 28 points lower than those who share one slate between four or more people; J.D. Power suggests that could have significant impact on subsequent purchases, with group satisfaction leading to brand-loyalty.
As for other tablet manufacturers, Samsung, ASUS, and Acer all get name-checked, though their scores each fell below the study average of 828. Samsung, which makes the Nexus 10 for Google in addition to its own Galaxy Tab line-up, scored 822, while ASUS, which makes the Google Nexus 7 among other models, scored 818. Acer dropped further behind, with a total of 784.
No mention of OS was made in the survey, though separate research published last week by Strategy Analytics indicates that Windows-based models saw a surge in attention after the more touch-tailored Windows 8 was released. Nonetheless, the tablet marketplace is predominantly dominated by iOS and Android.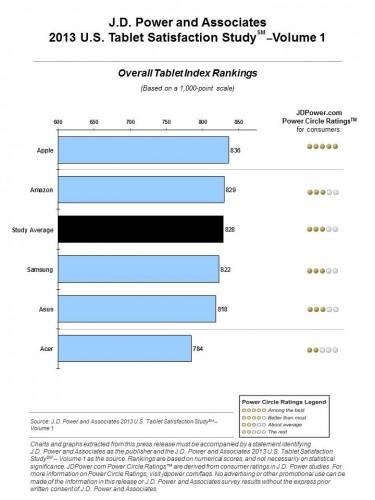 [via AppleInsider]