iPad mini said to break tradition with less than "great display" by DisplayMate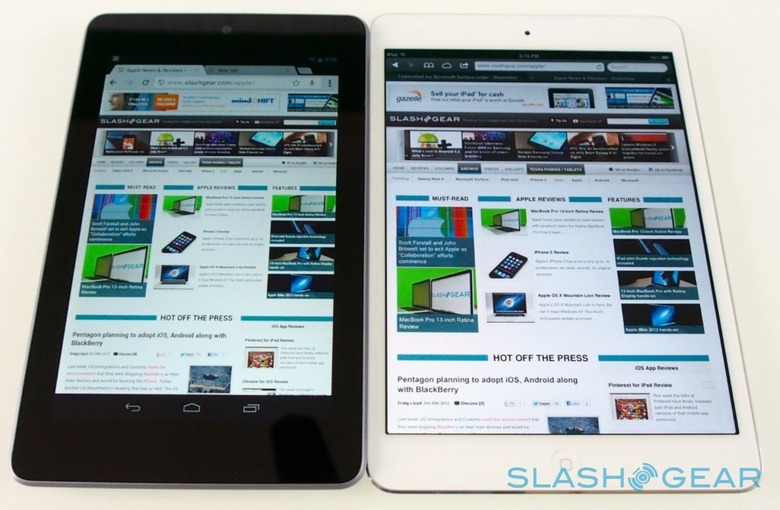 It would appear that the iPad mini isn't living up to the expectations of the folks over at DisplayMate where they've got their eye on the traditions of Apple in the very recent past with the iPad mini. DisplayMate made it clear this week that they felt that Apple was breaking their tradition of bringing "the best display, or at least a great display" to the market, saying that instead the iPad mini has "just a very capable display."
In tests up against the Google Nexus 7 and the Amazon Kindle Fire HD, Dr. Raymond Soneira of DisplayMate found that Apple's competitors provided sharper displays, making it clear that they, "both have considerably sharper displays with 216 Pixels Per Inch, and they both delivered considerably sharper text." Also tested where color gamuts, with the iPad mini coming up with a 62 percent.
Both the Nexus 7 and the Kindle Fire HD have 86 percent color gamut while the iPad 3rd gen and the iPhone 5 have 100 percent color gamut. The iPad mini reflected 53 percent more ambient light than the Nexus 7 in these tests and 41 percent more light than the Kindle Fire HD. Color management processing, on the other hand, was found to be far above average on the iPad mini, this bringing high picture quality and accurate color reproduction across the board.
The iPad mini's display resolution was up for discussion as far as cost goes – with DisplayMate noting that a retina display, 326-pixel per inch pixel density, would have cost a prohibitive amount given current yields in the industry. Apple's traditional use of 1,024 by 768 pixel and 2,048 by 1,536 pixel resolutions meant that 163ppi was required with the iPad mini if it wanted to keep with the screen size and work with all legacy apps.
Of course that's the real key for Apple – have a peek at our column Smart device specs are over, long live the ecosystem to see why it might not matter that the iPad mini has less sharpness in the end.