iPad mini in production says WSJ with 7.85" screen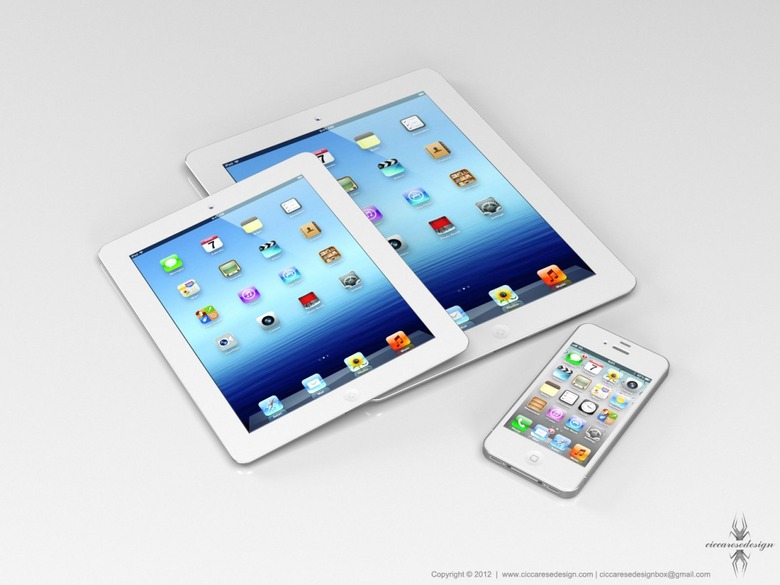 Chatter of Apple's iPad mini entering mass production has resurfaced, with new sources claiming the 7.85-inch slate has indeed begun rolling off manufacturing lines ahead of an estimated October launch. According to the WSJ's "people with knowledge of the situation" the cheaper, smaller iPad is all-systems-go among Apple's Asian component suppliers, believed to include LG Display and AUO.
Those two firms are tipped to be providing Apple with the 7.85-inch display the iPad mini is rumored to use. Its resolution will be less than the Retina Display panel of the new iPad, which comes in at an impressive 2048 x 1536, and is likely to be more akin to the 1024 x 768 of the original and second-gen iPads, making for an easier job for developers.
It's not the first time we've heard that the iPad mini is in production. Last month, Taiwanese press reported that both Foxconn and Pegatron had begun manufacturing, doubling up so as to cater for expected high demand. That level of consumer interest will undoubtedly be based for the large part on price, and though figures haven't been finalized, Apple has a small gap between the new iPod touch, from $299, and the iPad 2, which remains on sale at $399. The new iPad starts at $499.
Although Steve Jobs was famously dismissive of smaller tablets, describing them as "tweeners" and arguing that manufacturers would need to supply sandpaper for fingers in order for users to actually hit on-screen graphics with any accuracy, the rise of budget models like Google's Nexus 7, Amazon's Kindle Fire HD, and B&N's NOOK HD has highlighted a potential hole in Apple's line-up.
A smaller iPad would also be more comfortable to hold in one hand, such as for reading ebooks, and more portable for mobile use, rather than being left on the coffee table back home. An event to launch the slate is tipped to be in the pipeline for October 10.
[Image via Ciccarese Design]