iPad mini backplate appears in HD photos

The next-generation iPad mini, a device tipped to work with what's essentially iPad 2 specifications save it's smaller display, has appeared in several high-definition photos this week. The device appears here from Tech163 as a slightly more blunt version of the larger iPad 3rd generation device on the market today, including here a new dock connector hole and two sets of machine-drilled speaker holes. This device's docking port is likely matching that of the rumored 9-pin connector set for the iPhone 5.
This device is appearing with a standard design on the back with the Apple logo shining bright and the iPad name sitting halfway between the logo and the bottom of the slate. The innards of this casing show a top-mounted headphone jack and a back-facing camera as well as a microphone hole at the center of the back of the device near the top (portrait-style) for noise cancellation as it almost certainly works with another mic closer to the bottom. The edge of this casing also shows that the front glass of the device will not be surrounded by much of any sort of hard border.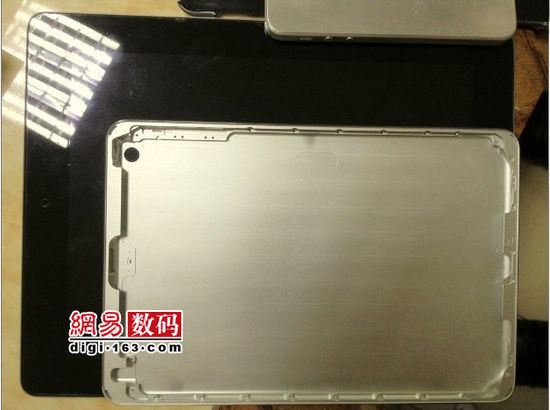 There's a screen lock switch hole as well as two longer holes up near the upper-right of the device's casing which are almost certainly in place for volume up/down. This device's 7.85-inch display will more than likely be high definition as it will contain the same resolution as the current iPad 2, but smashed into a smaller space. This device will also likely be offered in at least a wi-fi-only iteration while no word has yet surfaced on the possibility of a 4G LTE or otherwise mobile-connected version of the tablet.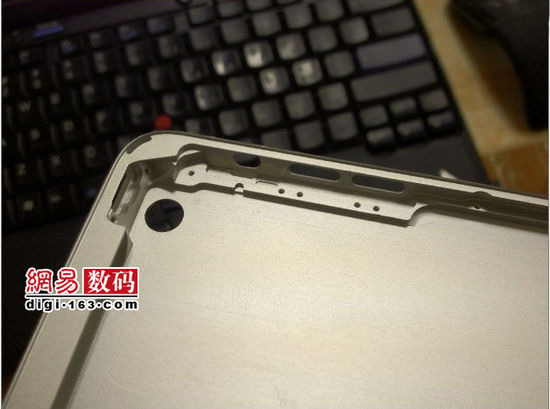 The iPad mini – or iPad Air, possibly, will be appearing at an event separate from the September 12th event we're about to attend which will be the home of the iPhone 5. This October event for the iPad mini will likely also bring a refresh of the 3rd Generation iPad with an updated dock connector as well. Stick around SlashGear's liveblogging portal for instant coverage of the September and October events, and hit our Apple portal for news everywhere in between here, there, and through the future!
[via Apple Insider]