First iPad kickstand emerges kicking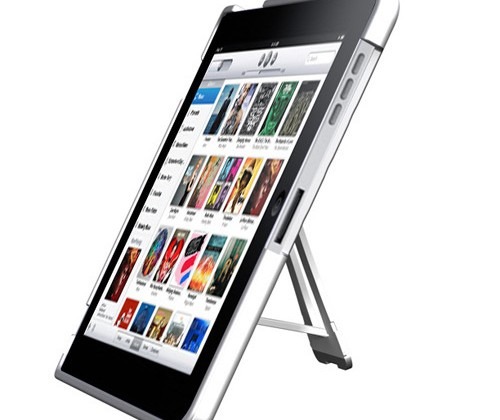 The first iPad kickstand.  Yes, this is just the accessory we've all been waiting for.  Created for you-know-what by Scosche, the kickBack (as the kickstand is formally known as) is made from polycarbonate and rubber, and is able to handle and adjust to both portrait and landscape mode.
To think of it, you can even buy an kickstand for the iPhone (like the 3.5" screen really needs it).  Now we'll be able to actually take this off our laps, set it down gingerly, and watch Up. Or Star Trek.  Your relatives' annual trip to the Rockies.  Or just gaze at beautiful stock photos drift by on the gorgeous 9.7-inch IPS display.  Whatever floats your iPad boat.  But don't forget, your voyage doesn't start for 60 days.
Oxnard, CA, – January 28, 2010 – Scosche Industries, an award-winning innovator of iPod and iPhone accessories, is proud to announce its first iPad accessory the new kickBACK. The shatterproof polycarbonate and rubber hybrid provides superior protection for the Apple's new iPad tablet. The case's patent pending locking kickstand enables both vertical and horizontal viewing and has a low angle setting for an optimal typing position. Scosche also included molded grips on the back of the kickBACK for more secure handling.

"We pride ourselves at consistently being one of the first accessories manufacturers to market with leading edge products following an iPhone, iPod, or now iPad announcement," said Kas Alves, executive vice president of Scosche Industries. "It's that ability to react quickly without sacrificing quality that has helped us develop necessary accessories like the new kickBACK."

Like all of Scosche's kickBACK cases the kickBACK ships with a screen protector and cleaning cloth. The kickBACK will ship in early-mid Spring 2010 and is the first of an entire line of accessories Scosche has planned.
[via Gizmodo]