iPad 3 Headed To Production Tips Analyst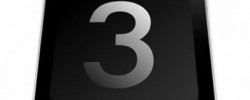 The iPhone 4S rumors have given way to the real product, as disappointed as some were by the new smartphone. The rumors of the next version are already heating up and the rumors on the next iPad are going strong too. An analyst from Susquehanna named Jeff Fidacaro is claiming that sources in the supply chain are saying the iPad 3 is headed into production.
According to Fidacaro, supply chain checks suggest that production numbers for the iPad are ramping up for Q4. This is to be expected since Apple is gearing up for a heavy holiday sales season as always. The production numbers are claimed to be climbing to 12 to 14 million units from about 11 to 13 million. That increase in production is also claimed to be partly due to an early run of the iPad 3.
Fidacaro told AllThingsD that he is seeing 600,000 to 1 million iPad 3 builds in the supply chain. The iPad 2 was unveiled in March so a ramp up now would be in line with another unveil in March. The analyst also expects that Apple will ship about 13 million iPads in Q4.