iPad 3 component suggests larger battery, new LCD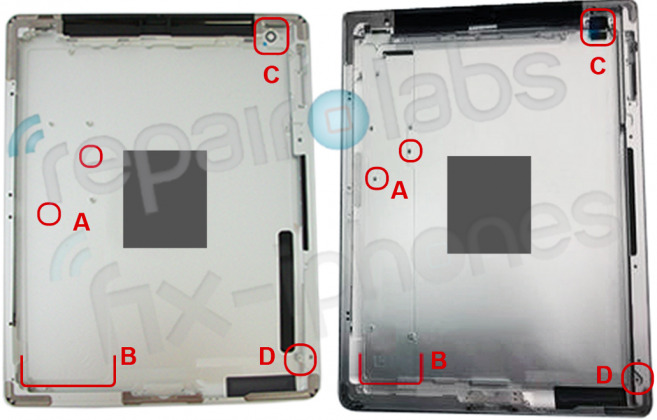 A component purported to be the back panel of Apple's future iPad 3 has surfaced and when compared with the back panel of an iPad 2, several differences are apparent. The comparison was posted by RepairLabs, which points out that the new panel design suggests a larger battery, a new LCD, and a tweaked camera.
The key differences between the iPad 2 and iPad 3 back panels include very different mounts for the logic board, which implies a major change in the shape of the logic board in the next-gen iPad. This change gives more space for a larger battery, which falls in line with rumors that the iPad 3 would offer greater battery life.
The back panel also reveals that the camera on the iPad 3 will be mounted at a new location, implying that there may be some tweaks to the camera as well. The mounting for the LCD is also modified suggesting a new display. The iPad 3 is rumored to sport a new high-res Retina Display.
[via AppleInsider]