iPad 2 Review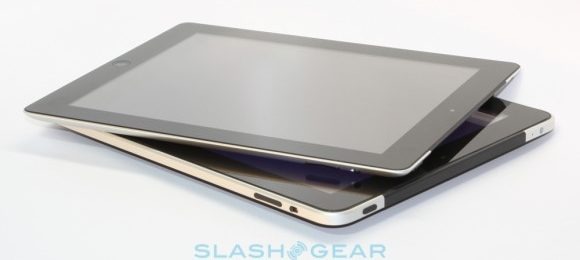 The iPad shaped the consumer tablet market. Now, just as Android 3.0 Honeycomb slates are rising to the challenge, the iPad 2 is here to move Apple's game on even further. Squeezing a faster processor, boosted graphics and twin cameras into a 33-percent thinner design, yet keeping the same 10hr battery and – perhaps most importantly – the same price, the iPad 2 promises to refine what rivals were still struggling to beat. Is the Apple iPad 2 the best tablet today? Check out the full SlashGear review after the cut.
Hardware
It may be a little smaller, a fair amount lighter and a whole lot thinner, but the iPad 2 is still unmistakably an iPad. The original, bow-backed model measured in at 246 x 190 x 13 mm and 680g (for the WiFi-only version); the new iPad 2 slims that down to 241 x 186 x 8.8 mm and 601g. Since the display is still 9.7-inches, that means a slightly narrower bezel as well, though the difference is minor. Like the latest iPod touch, the edges of the iPad 2 taper neatly: the slate sits flat on a table, not rocking like its predecessor, and feels even thinner in the hand thanks to the narrowing sides. That makes one-handed use – such as when reading ebooks in iBooks or the Kindle app – more practical. Two color options are on offer, white or black, though both have a brushed aluminum back panel.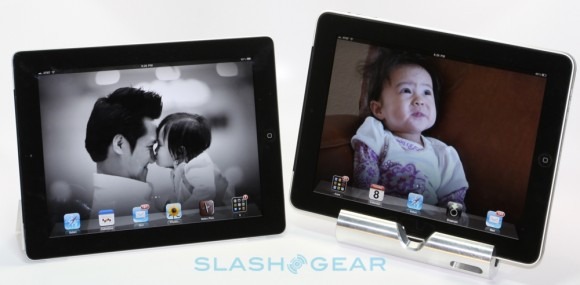 The display is the same 9.7-inch, 1024 x 768 panel as on the first iPad, with an oleophobic coating for easier fingerprint removal, and 132ppi resolution. An IPS display with LED backlighting, it's still among the best on current tablets, though the resolution falls short of the 1280 x 800 panels we're seeing on Android Honeycomb tablets like Motorola's XOOM. Still, viewing angles are very broad, and no matter whether you're viewing in landscape or portrait orientation, or even completely upside-down, there's no discoloration or ghosting as can be the case with cheaper screens.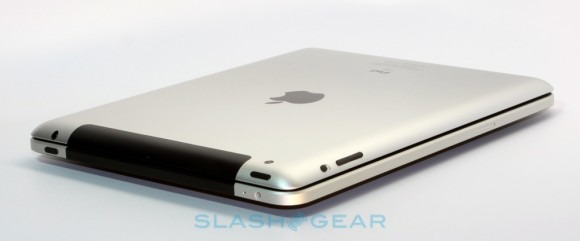 Hardware controls are much as before, with a power/sleep button on the top edge along with the headphone socket, and a volume rocker and mute switch that, thanks to iOS 4.3, can be restored to its original screen-rotation-lock functionality. On the front is the usual Home button, while a larger speaker grille is on the lower back of the slate, though still only offering mono sound rather than stereo. An integrated microphone is also present.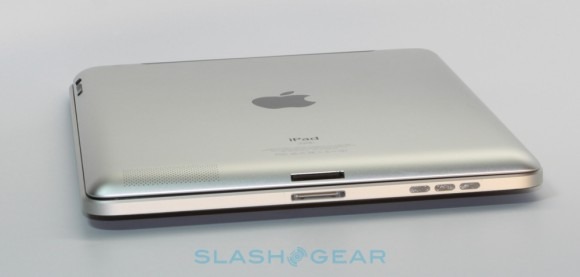 Inside, there's Apple's latest processor, the dual-core Apple A5. Pairing two 1GHz cores, the custom SoC promises significantly higher performance than its single-core A4 predecessor. It's paired with an unspecified amount of memory, which according to our Geekbench testing is around 512MB (double the original iPad), and either 16GB, 32GB or 64GB of flash storage.
Physical connectivity is limited to Apple's 30-pin Dock Connector and a 3.5mm headphone socket; no SD card slot, USB port or Thunderbolt port as the rumors suggested. Wireless is more flexible, with WiFi a/b/g/n and Bluetooth 2.1+EDR as standard and a choice of AT&T or Verizon 3G models. The AT&T iPad 2 gets a quadband UMTS/HSPA and quadband GSM/EDGE modem which will work in North America and internationally, while the Verizon iPad 2 has a CDMA/EVDO Rev.A modem but no global-roaming support. Each is data-only, so you can't use the iPad 2 to make voice calls. A hybrid GSM/CDMA radio would've been ideal, but instead Apple insists you choose between AT&T or Verizon from the outset.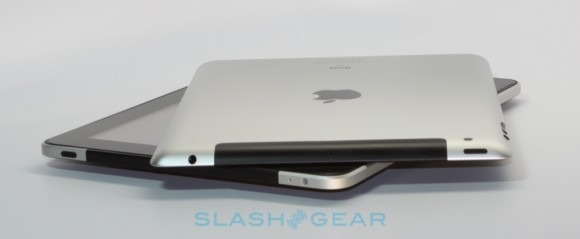 Both WiFi and WiFi + 3G models get a three-axis gyroscope, accelerometer, digital compass and ambient light sensor, though only the 3G-enabled iPad 2 gets A-GPS. We'd have liked to see a GPS chip on the WiFi-only version, though perhaps Apple believes it's less likely to be taken out of the home or office. Still, the WiFi positioning system works reasonably well, as long as you're in a fairly metropolitan area.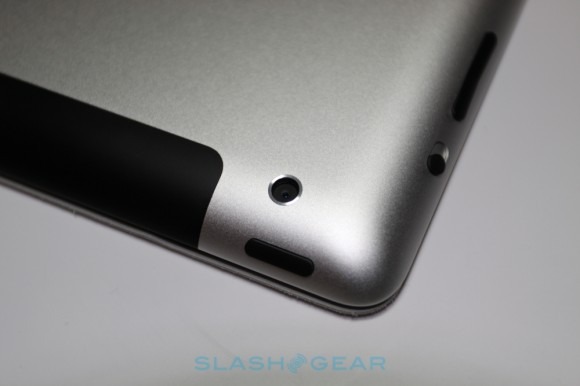 A common point of complaint about the first-gen iPad was the absence of any sort of camera, especially since subsequent teardowns suggested a space for a front-facing webcam had been made in the bezel. The iPad 2 addresses that omission, with not one but two cameras. Up front is a VGA-resolution 640 x 480 webcam capable of recording 30fps video and shooting stills, but really intended for Apple's FaceTime video calls. On the back, meanwhile, is a 720p HD 30fps video camera also capable of stills, and with a 5x digital zooms. More on the iPad 2 cameras later in the review.
iPad 2 Hardware walkthrough
[vms bed14a48843d74526c11]
iOS 4.3
New hardware is only half of the iPad 2 story. The updated Apple slate also debuts iOS 4.3, the latest iteration of Apple's mobile platform. iOS 4.3's headline change is the introduction of the Nitro JavaScript engine first developed for Safari on the desktop, and now packaged into the WebKit heart of Safari mobile. It promises more than double the JavaScript performance, adding up to significantly boosted browsing and rendering speeds.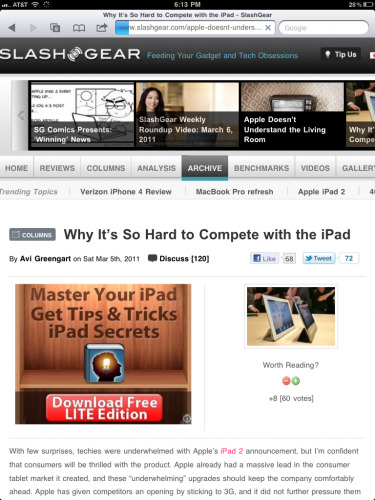 Meanwhile, there's also support for iTunes home sharing, pulling iTunes content on a Mac or PC over a WiFi network to the iPad 2, along with a boosted version of AirPlay. That now supports video streaming from third party apps and sites, videos from the iPad 2's Photos app, and previews from the iTunes app to an Apple TV. On a day-to-day basis, it's arguably the user-assignable mute/lock switch that makes the most difference. We still can't quite understand why Apple changed it in the first place, but we're happy to be able to change it back.
Of course, you won't need an iPad 2 to get a taste of iOS 4.3, and in fact you don't even need an iPad at all. Apple released the updated iOS earlier today for the GSM iPhone 4, iPhone 3GS, 3rd and 4th generation iPod touch and the original iPad, a free download that brings the new functionality to the older devices.
iOS 4.3 builds on the existing abilities of the last significant platform update, iOS 4.2, which introduced multitasking, folders, Game Center, AirPlay and AirPrint to the original iPad. It remains one of the easier mobile OSes for new users to become familiar with, as well as offering the most well stocked App Store, though there's still room for improvement. Notifications remain a bug-bear, and we'd hoped Apple would demonstrate its intentions for an updated system in iOS 5.0 at the iPad 2 launch event. The pop-up dialogs work, but can be distracting – especially if you have multiple apps alerting you throughout the day – leaving the system perhaps the least elegant part of iOS overall.
We'd also like to see OS X's widgets carried over to mobile, seeing as the iOS homescreen is particularly icon-heavy. While Android 3.0 Honeycomb could well be seen as intimidating in its UI to new users, there's a balance point somewhere in-between where more at-a-glance information is presented. At the least, pulling updates and notifications to the lock screen would make catching up with iOS' activities more straightforward. We've high hopes for iOS 5.0.
Something you can't really complain about is the iPad 2's speed. iOS 4.3 whips along almost instantaneously on the new Apple A5 processor, with apps loading more swiftly, running more smoothly and the whole thing feeling incredibly responsive. The original iPad never exactly felt slow, but side by side with its successor the difference is noticeable in daily use.
We turned to Geekbench, a synthetic test of processor and memory performance, comparing the new iPad 2 with its predecessor and the iPhone 4. The iPad 2 scored 749 overall with its dual-core chip and 512MB of RAM, almost double the iPhone 4 – at 377 – with a single-core processor and the same amount of memory. The first-gen iPad – with the single-core processor and 256MB of memory – scored 453 under iOS 4.2; strangely, after upgrading to iOS 4.3, that actually dropped slightly, to 448.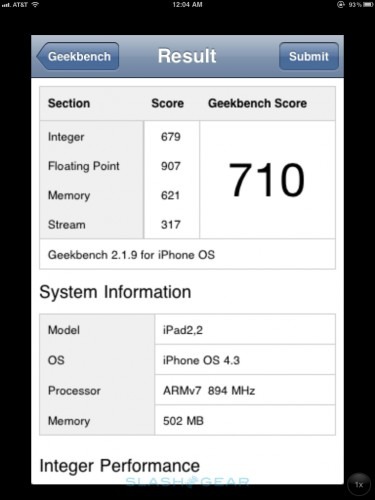 In the real world that – along with graphics performance, which Apple claims is up to 9x faster than the iPad – means more multimedia grunt and fewer app crashes. We were able to software decode a side loaded 1.4GB .avi file in OPlayer on the fly, while watching it, without and lag or stutter. The same clip in the same app on the original iPad loads slower and drops frames and audio during playback. Large PDF files were also easier to handle, rendering more quickly, scrolling and zooming more smoothly, and the iPad 2 capable of displaying documents that proved too big for the iPad to handle.
iPad vs iPad 2 media playback
[vms 361a1b07bc55042e25e5]
Internet
Tablets are generally found doing web duty, and the iPad 2 fits the niche well. The mobile version of Safari was always a reasonably good way to browse, with multitouch gestures and swipes making navigation straightforward, but the Apple A5's extra turn of speed and the software improvements in iOS 4.3 considerably boost the experience.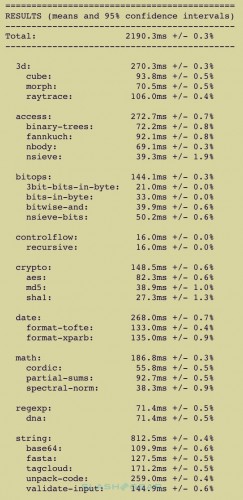 Pages load faster, render quicker, and scroll more smoothly. There's less time spent looking at the checkered pattern of a blank page, waiting for the content to show up, and pinch-zooming is resolved quicker too. Meanwhile, thanks to the extra RAM, we experienced fewer out-of-memory errors and crashes in both the standard browser and third-party apps. Where the original iPad could sometimes get overloaded by a particularly heavy webpage, throwing you back to the homescreen, we were able to open multiple tabs and still have no issues with the iPad 2 keeping up.
In no small part that's down to the new Nitro JavaScript engine, carried over to the WebKit browser from the desktop version of Safari. We turned to benchmarking tool SunSpider to gauge the performance boost, an online tool that measures core JavaScript performance with a variety of tasks intended to replicate real-world surfing behaviors. For instance, it generates a tagcloud from JSON input, a 3D raytracer, performs cryptography tests and code decompression, and other tasks that might be encountered in everyday browsing.
The iPad 2 scored 2,190ms overall (in SunSpider, lower is better) whereas the original iPad scored 8,427ms running iOS 4.2. After upgrading the iPad to iOS 4.3, meanwhile, its SunSpider score improved to 3,240ms. It proves the importance of software optimization, certainly, and that fast hardware isn't the only thing you need for a good mobile experience. In contrast, an iPhone 4 scored 10,121ms, Google's Nexus S (running Android 2.3) scored 6,904ms, and the Android 3.0 Honeycomb based Motorola XOOM scored 2,149ms. Still, it's worth noting that Safari 5 running on a MacBook Pro scored around 432ms, considerably faster again.
Other than the new turn of speed, mobile Safari is much as it was before. That means HTML5 support but no Flash, in keeping with the rest of Apple's mobile devices. That might eventually be a Honeycomb advantage, but right now Adobe hasn't a version of Flash Player for the Android tablet OS either. Unfortunately, the iPad 2 also lacks the Mobile Hotspot functionality found in iOS 4.3 for the iPhone 4, which means you can't share the WiFi + 3G model's cellular connection with other devices.
Camera and Multimedia
On paper, neither of the iPad 2's cameras is particularly impressive. A mere VGA resolution up front, with 720p HD the extent of the rear camera's abilities, they fall well short of the high-resolution optics we're seeing on rival smartphones and tablets. Still, you could well argue that the ambitious cameras seen elsewhere aren't particularly useful on a tablet-scale device, being better suited to something more pocket-portable like the iPhone 4. Instead, Apple is positioning them as primarily FaceTime cameras, with HD video recording thrown in too.
Sample still shot taken with iPad 2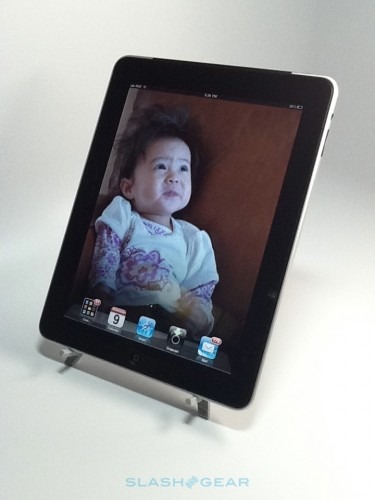 FaceTime works as you'd expect, making video calls between the iPad 2, the iPhone 4, iPod touch 4th-gen and Mac. Unfortunately there's no FaceTime HD support, as on the latest 2011 MacBook Pro models, which seems a missed opportunity given the scale of the iPad 2's display. As always you can flick between front and rear cameras mid-call, while the single mono speaker – although not exactly high-fidelity – is reasonably loud and, by virtue of its positioning slightly further up the back of the tablet rather than on the bottom edge, isn't so prone to being blocked or covered as on the first-gen iPad.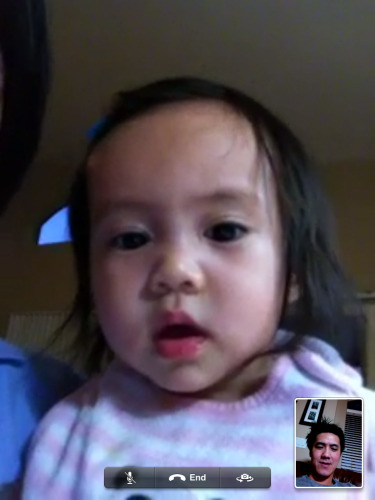 Footage recorded using the main camera, meanwhile, is roughly on a par with what you'd expect from the iPod touch, while the 960 x 720 stills are fairly underwhelming. It seems like Apple is more focused on video with the iPad 2, hence the debut of iMovie for iPad ($4.99) alongside the updated slate. The app is a brilliant example of a finger interface done well, borrowing enough from iMovie on OS X to be instantly familiar, but pairing it with a refined UI that makes use of predefined themes (containing titles, transitions and a soundtrack), effects, graphics and text, along with multitouch gestures, to speed the editing process.
The Precision Editor tool is a good example, triggered with a pinch-open gesture wherever clips overlap, and offering easily-dragged edit bars. Any sort of lag or stutter would immediately undermine the process, but iMovie for iPad is smooth and slick, handling 720p clips – which automatically show up in the library after you record them – with no delay whatsoever. Hooking into the iTunes library for backing music is an obvious addition, but being able to instantly add narration using the iPad 2's microphone is a neat extra touch. Audio quality is surprisingly good, too, and you can always plug in a hands-free kit to further avoid background noise.
It's not just footage recorded with the iPad 2's camera, however. We took some 720p HD clips recorded in Motion JPEG (but not AVCHD or AVCHD Lite) using a Panasonic LUMIX GF2, imported them using the Camera Connection kit, and then were able to import them into iMovie. Once there – the import process took seconds – we could treat them just as you would any other clip.
iPad 2 back facing camera sample video
[vms e6b4871809f49debe057]
Once you've finished editing, video exports are quick and simple. We saved a 30 second 720p HD clip in less than a minute. iMovie has options for uploading direct to YouTube, Facebook, Vimeo or CNN iReport; alternatively you can save it to the Camera Roll and, from there, send it to MobileMe or via email (or, if you're using iMovie on the iPhone 4, via MMS). The AirPlay support in iOS allows you to stream footage directly to an Apple TV hooked up to your big screen, or you can do things the old-fashioned way and sync clips across via iTunes.
Finally, there's the much-anticipated HDMI support for the iPad 2, not via a dedicated port but using a $39 adapter dongle that hooks up to the Dock Connector. Small enough to drop into a gadget bag, The Apple Digital AV Adapter has both a pass-through Dock Connector and an HDMI output; plug in your HDTV, and the iPad 2 automatically mirrors what's on its display on the external screen. Native and third-party apps are duplicated at up to 1080p Full HD resolution, with landscape and portrait orientation support, while movies output at up to 720p HD. As you'd hope, it "just works": plug in, and you can instantly start sharing.
So, what they lack in megapixels, the two cameras make up for in ease of use. The app loads instantly – meaning no missed video opportunities waiting for the lens to open – and even without iMovie you can perform basic trim edits on your clips before uploading or sharing them. The ability to import external footage turns the iPad 2 into a capable mobile editing studio, creating video content much faster than we've been able to before on netbooks and many ultraportable notebooks.
Audio, meanwhile, is the same iPod app we're familiar with from previous iterations of iOS, along with the broad range of streaming music services available from the App Store. Thanks to the background process APIs, these can keep running even if the software itself doesn't have focus. Apple has also introduced GarageBand for iPad ($4.99), aiming to do for mobile musicians what iMovie does for videographers. An app of two halves, GarageBand has various instruments – traditional drums, drum machines, keyboards, synths and guitars – together with an 8-track recording studio.
The instruments can be played manually, or set into Smart Instrument mode with preconfigured chords guaranteed to sound correct together. There's also a grid-based drum machine for quickly setting up looping patterns. All of these can be pulled into the 8-track recorder, using a straightforward graphical UI and similar editing gestures to iMovie. There's a range of guitar amps and stompbox effects, too, to suitably modify or mangle each track.
So far, so good, but more advanced musicians will appreciate GarageBand's ability to record external sources and include them as well. That's most simply done with the iPad 2's integrated microphone, but you can also use external audio interfaces or microphones and route the signal through a range of effects, compressors and pitch-adjustments on the way. We've seen third-party iPad music studio apps before, but GarageBand goes a long way to balancing the needs of entry-level users curious about a five dollar app, and more capable users looking for a straightforward but flexible app for capturing music on the move.
Battery
The original iPad set a benchmark for battery life, and rival tablets are still having trouble matching it. With a dual-core processor, it would've been easy for the iPad 2 to dip under the 10hr mark, but somehow despite the thinner chassis and new CPU, there's still room for a 25-watt-hour Li-Poly battery. That, Apple claim, is good for up to 10hrs surfing over WiFi, watching video or listening to music (or 9hrs 3G surfing on the WiFi + 3G iPad 2 models).
In reality, as was the case with the first iPad, we've seen in excess of ten hours mixed use from a full charge. That's with WiFi switched on; turn the wireless off, as you might while in airplane mode, and you'll stretch even more out of the iPad 2. Enough for an international flight, certainly, and still the measure by which competing tablets will be judged.
As with the first iPad, Apple supplies a 10W AC power adapter, double what you'd get with an iPhone 4 and capable of more juice than the average USB port. That means recharging the slate from another source will take longer than using the bundled adapter.
Accessories
As usual, in the box there's the bare minimum: the iPad 2 itself, a USB cable, 10W AC adapter and some printed warranty information. The original iPad accessory line has been partially refreshed to suit the new model; the Bluetooth keyboard, Camera Connection Kit, VGA adapter, and composite/component AV cables are all the same as before, while the iPad Keyboard Dock looks to have disappeared in the transition. Meanwhile, the regular iPad Dock ($29) has been updated to suit the iPad 2's new profile, though still has a 3.5mm audio output and Dock Connector for charging and syncing the tablet.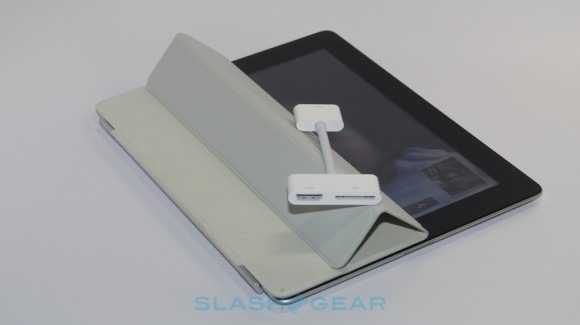 The two biggest additions are the Apple Digital AV Adapter ($39), the HDMI and Dock Connector dongle discussed above, and the new iPad Smart Cover cases. The latter take advantage of the magnets newly integrated into the edge of the iPad 2, clicking into place and offering not only a low-profile way to protect the screen, but – with a few folds – an adjustable stand that can prop the tablet in either a shallow recline for typing or an upright position for watching video. A second magnet automatically flicks the iPad 2 into sleep mode when the Smart Cover is closed, powering it back up when you open it again; it works instantaneously, almost giving the impression – like a refrigerator – that the home lights are always burning.
Two lines of Smart Cover cases are offered, a $39 range of polyurethane versions in five different colors, and a $69 range of Italian leather versions, again with five color options. One of the latter is a (PRODUCT)RED promotion, with a portion of the sales price going to AIDS research. Both ranges are lined with microfiber to avoid scratching the display, though – unlike the original iPad folio – they do leave the back and edges of the iPad 2 exposed.
That's the extent of Apple's official iPad 2 accessory range, but we're expecting plenty more from third-party manufacturers. The cases, adapters and docks started showing up as soon as the iPad 2 was confirmed, and that deluge will only increase over the coming months. While rival platforms are seeing more aftermarket accessories, Apple still leads the field in third-party support.
Price and Value
Despite all the changes, Apple has frozen pricing for the iPad 2. The range starts off at $499, as before, for the 16GB iPad 2 WiFi, climbing to $599 for the 32GB and $699 for the 64GB. As for the WiFi + 3G models, both the AT&T and Verizon variants are priced at $629 for the 16GB iPad 2, $729 for the 32GB and $829 for the 64GB.
Data packages for the 3G-enabled iPad 2 vary by carrier. AT&T has just two on offer, a $15 per month plan for a mere 250MB (with $15 per 250MB overage) and a $25 per month plan for 2GB ($10 per 1GB overage). Verizon has four plans, starting at $20 for 1GB ($20/GB overage), $35 for 3GB ($10/GB overage), $50 for 5GB ($10/GB overage) and finally $80 for 10GB ($10/GB overage). Both sets of plans offer month-to-month agreements, so you can sign-up, cancel and then sign-up again as you see fit, and each iPad 2 WiFi + 3G allows you to register and activate service on the tablet itself, rather than having to contact customer services.
Pit it against the competition, and the iPad 2 holds its own. The Android-based Motorola XOOM is the obvious comparison, available from $599.99 on Verizon but only if you agree to a two-year data plan. In off-contract form, it's $799.99 for the 32GB XOOM (and the same data packages as Verizon offer for the iPad 2) which makes it $70 more than the equivalent Apple model. For that extra money you get higher-resolution cameras, a higher resolution screen and the promise of 4G further down the road, but at the cost of a less developed OS, fewer tablet-specific apps, shorter battery life under general use and a generally less polished experience overall.
There's a lot of promise in Honeycomb, yes, but today – and likely for the first six months or so – it falls well short of the consistency, ease of use and stability iOS and the iPad 2 offer. Value is always subjective, but right now the general tablet audience will likely find the iPad 2 more approachable, more straightforward and easier to get the best out of from day one.
Wrap-Up
How much, exactly, did Apple have to do to maintain its tablet lead? Even a year after its launch, the original iPad consistently held rivals and upstarts at arms-length across most of the key metrics. Challengers fell short of its battery life, couldn't match its pricing, struggled with usability and floundered in the absence of a well-stocked App Store and huge developer support. Yes, there were flaws and omissions, but Apple was still the company to beat in the fledgling consumer tablet segment.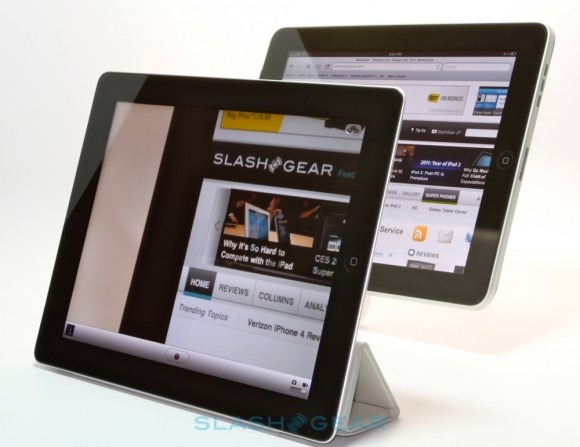 On most levels, then, the iPad 2 over-delivers. By boosting speed and graphics performance while simultaneously slimming down the chassis and preserving battery life, Apple has maintained its core strengths and extended its lead in what are arguably the toughest areas rivals faces. Sure, a Retina Display would have been great, and high-resolution camera, but it's relatively straightforward to drop those into the next iPad; it's a whole lot more difficult to make a super-thin tablet with 10+ hours of runtime.
For original iPad owners, the question of whether to upgrade is a difficult one. If you want Verizon 3G support then there's no choice, of course, but otherwise the performance boost from the free iOS 4.3 update will likely persuade many that they can hold off on a hardware refresh until the third-generation iPad arrives. FaceTime works, certainly, and the ability to shoot 720p HD (and use iMovie, which won't be available for the camera-free original iPad) and process it all on-device are neat, but there's no must-have improvement that conclusively swings it for everybody. If the original iPad's speed proved frustrating to you then the Apple A5 chip is certainly a blessing, and those with an objection to weight won't have any problems falling for the super-skinny iPad 2 chassis, but from the boosted Safari performance alone we'd be tempted to stick with iOS 4.3 a while before dumping the first model.
For everyone else, though, Apple has put together a superbly capable, class-shaping tablet, which can now legitimately take on not only other slates but lighter ereaders such as Amazon's Kindle. The iPad 2 benefits from Apple's cohesive hardware and software development together with the vast third-party developer support of the App Store, consistent and simple to use in equal measure. Apple's vision of the post-PC world isn't quite here yet – the iPad 2 still works best with, and at times demands, integration with a "proper" computer – but when it comes to tablets the iPad 2 maintains its position at the vanguard of the market. [Apple]