iPad 2 gets ultimate spiderArm mount, modular, 360 adjustable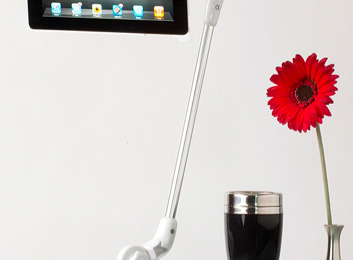 If you're often tired of holding up your iPad whilst laying in bed or on the sofa, then you may benefit from a new adjustable mount called the spiderArm. The modular and highly adjustable spiderArm can securely support both the iPad and the latest iPad 2.
The spiderArm system comes with two base units, essentially a SurfaceMount that is padded and can be secured to a table or desk or a VersaMount that allows it to be attached to walls, under cabinets, or near work stations. Then you can choose from three modular extension arms that offer 270-degree joints that lead to the secureSnap casing for the iPad itself that features a 360-degree adjustable connection.
The arm extensions themselves aren't clunky and are rather versatile in that they should blend nicely into your home or office. They are made of polycarbonate for strength and durability. The spiderArm comes in piano-key white or in a soft, anodized aluminum finish. It retails for $79.99 and is available at spiderArm.com or on Amazon.