iPad 2 Gets Premature Amazon Listing With Thunderbolt And 1.2GHz CPU?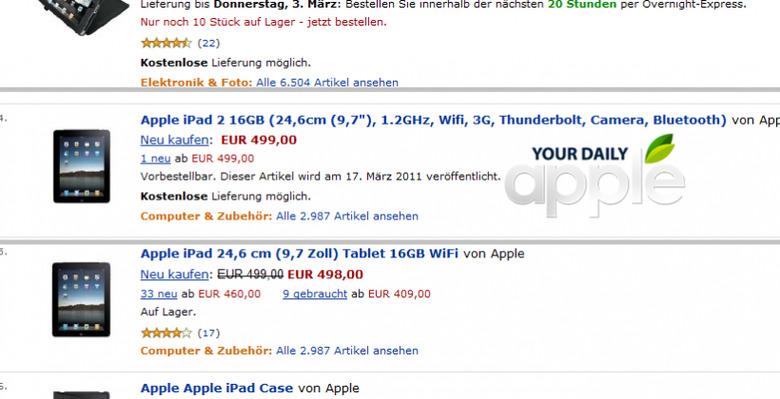 It isn't exactly unheard of for new products to accidentally leak on Amazon after some over-ambitious catalog manager hits a button too quickly, but did the German arm of the online retailer do just that with the iPad 2? According to Your Daily Apple's source – who provided them with the following screenshot – a 16GB iPad 2 with a 1.2GHz processor and Thunderbolt connectivity was briefly added to the range.
The listing – if authentic – has since been taken down, and the link supplied leads to a 404 page. Other reported specs include WiFi, a camera, Bluetooth and the same size 9.7-inch display, just as we're expecting, along with a €499 price tag and a March 17 estimated release date.
Now, product listings are easy enough to fake, and there's enough variation in Amazon's nomenclature so that we can't discount the screenshot simply based on how it's phrased. Still, we won't know for sure until Apple's event later today, so join the SlashGear liveblog at 10AM PST for all the news!
[via MobileBulgaria]