iPad 2 flipping rampant in online auctions, as high as $4000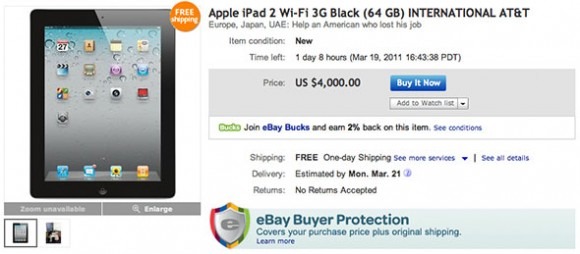 Apple's shortage of iPad 2 slates is a blessing for the enterprising folks that are now flipping their iPad 2s all over the internet. Listings on eBay run the gamut from double to quadruple the actual retail price. One gentleman listed his 64GB AT&T 3G iPad 2 on eBay for a whopping $4000!
The $4k listing is a bit on the high end. But the guy markets it well, targeting international bidders with a message to Europe, Japan, and UAE customers saying "Help an American who lost his job." Tugging at the heart strings may give him an edge over the almost 200 other listings.
Other listings include a 16GB model, which retails for $500, going for $2000 on eBay and up to $1000 on Craigslist in major metropolitan areas such as New York City. But what wouldn't they pay for in NYC? Have you gotten your iPad 2 yet? Got $4,000 to burn?
[via TUAW]