iPad 2 Cygnett Platform vs Logitech Fold-up Keyboard vs Speck HandyShell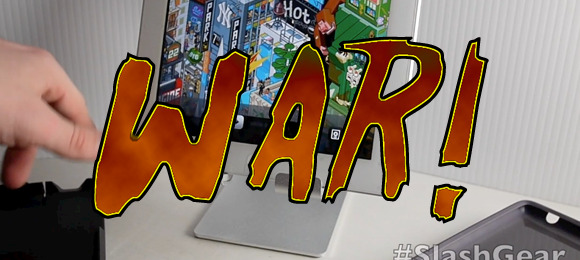 There's a war going on out there no iPad is safe from, and its the manufacturers of cases, stands, and skins that are the weapons. Today we've got a three-way war going on between Cygnett, Logitech, and Speck, each of them with an option for you to keep your iPad 2 standing up and off your lap! The Cygnett Universal Tablet Stand is unreleased while the other two options, the Logitech Fold-up Keyboard and the Speck HandyShell are out and about right as we speak – let's see which one stands up to the rest and takes the test the best!
This is the first of perhaps several wars between similar cases, stands, and skins for devices such as the iPad and the iPhone – two products that have more accessories than Mrs. Wayans has kids. This first war is a selection between some products that have quite different aims but have all been utilized to their maximum potential by your humble narrator. As it turns out, each of these units works rather well when you're using your iPad 2 as a control unit for video viewing – either right on the device or feeding out through your HDMI converter to your HDTV.
Cygnett Platform Universal Tablet Stand
This stand was shown off at CES 2012 and we got an advanced look at it here, it being made entirely of metal save for the rubber-covered brackets and non-slip rubber cradle and coming in at $39.99 when it gets released. Unlike the other units in this battle, this stand can be used for any and all tablets you might have, including your Android, Windows, BlackBerry, and webOS devices all the same. You'll be able to purchase this monster straight from Cygnett when the time is ripe (inside the next couple of months) in their online store.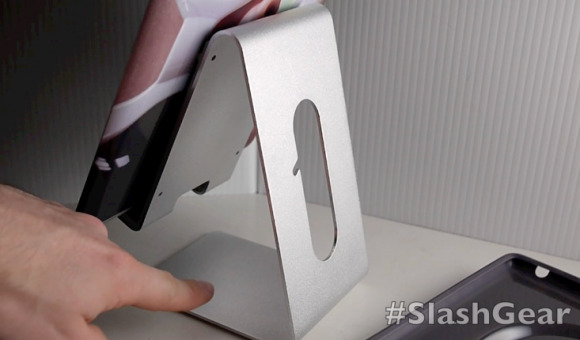 Logitech Fold-Up Keyboard
This product works with the iPad 2 specifically and is certainly a cool customer when it comes to showing off its abilities to your pals. Folded down this unit simply makes your iPad look like a thick industrial-sized tablet made mostly of plastic. When you want a keyboard, on the other hand, you've only to hit the button that unlocks the unit and pull your iPad 2 up – swoop come the two sides of the keyboard, meeting in the middle for one big complete show! This device connects to your iPad 2 via Bluetooth and does need to be recharged from time to time, but makes typing one whole heck of a lot easier so long as you've got a flat surface to put it on. This unit is currently out of stock at Logitech but will cost you right around $129.99 wherever you end up finding it.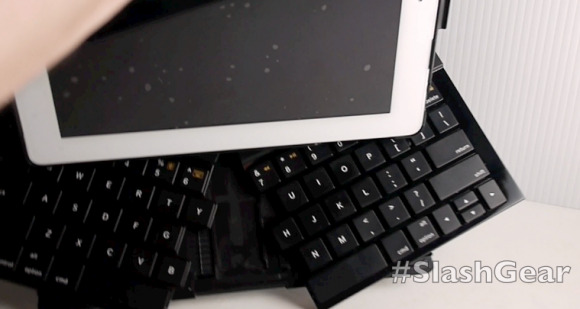 Speck HandyShell
This case made by Speck is by far one of the simplest case and stand all-in-one units I've ever seen. It's got a reinforced one-piece construction for the case part and a flip-out handle on the back that's got a tension that allows for it to stand at nearly any angle. This case is the only one of the three that does not allow for the usage of your Apple-made Smart Cover, but given that you'll be using your device for a video and/or living photo frame from now on anyway, who cares? This shell is available right this second in Speck's online shop for a cool $54.95 and is one of about a billion different cases the group offers.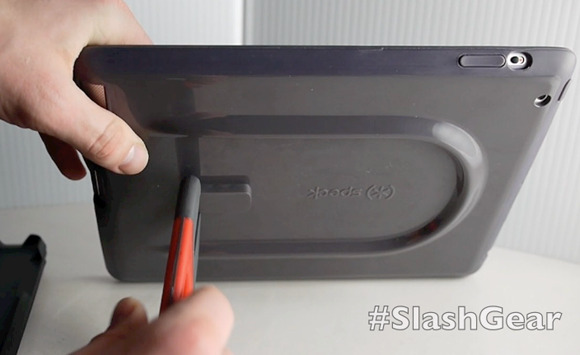 The Winner
When you take all the instances in the world that I use the iPad 2 for on a daily basis, there's more than one answer for which case wins this war. Though I'm certain the Logitech unit has its uses for those of you that use your iPad to blog, write lots of emails, and network socially, I've not had enough real-world use cases to be able to suggest it as the all-out winner. The HandyShell has proven itself time and time again not only as a stand for hands-off usage of the iPad 2, the handle keeps showing off its uses each time I play a game with the unit – at $54.95, it's worth the money all day long. Finally the Cygnett Platform Universal Tablet Stand is a perfectly excellent stand for home or business use – it's certainly not a good choice for traveling anywhere since it doesn't fold down at all, but just sitting in one place it can't be beat!