iOS/Apple Still on Top in MobileMix Study
Behold the statistics! Millenial Media has put out their MobileMix report for April 2011 showing device and manufacturer data, device OS mix, and global mobile developer trends. Essentially everything appears to be turning up tops for Apple save for the smartphone OS Mix which has Android ahead by a country mile. Revenue for apps has about the same lead over all other platforms save for Android in a 50% / 39% comparison while Global OS impressions in Millenial Media's network grew 47% since January, trailed by Android, RIM, and Symbian with 19%, 17%, and 5% also all since January of this year. This whole study, again, is as of April 2011.
It seems that Apple's strategy of being at once a massive manufacturer of a few devices and the single holder of its own mobile OS is continuing to pay off, Apple holding both the top spot in manufacturers over the next spot held by Samsung by double (32.76% / 12.58%,) and the top mobile phone at 20.03% with the iPhone offer the 2nd place holder BlackBerry Curve with 5.29% – number three going to the HTC Evo followed by Samsung's Nexus S.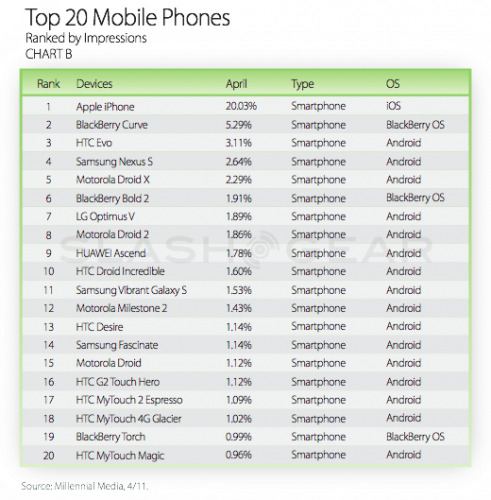 As for devices running which type of software in a more general sense, the smartphone share is now at 68% over feature phones and connected devices (including devices that can connect to the internet, but do not work as mobile phones,) both of them at 16%.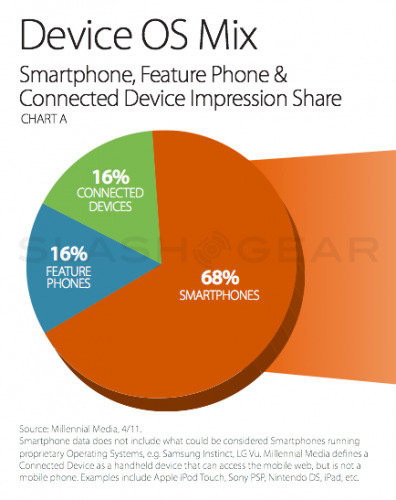 Inside that Smartphone section, a whopping 53% of the mobile operating systems are in the Android category. Apple's iOS trails with 28%, RIM coming up next at 16%. The rest are all at a paltry 1% each: Symbian, Windows, and Other.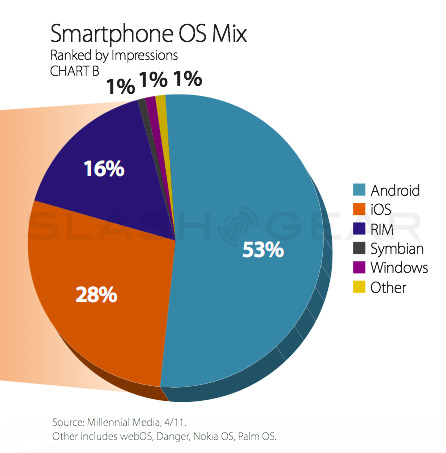 Finally, iOS is up on top for revenue generated from apps, the platforms app revenue generated rising 6% month-over-month and represented as 50% of the Application Platform Mix in Millenial Media's network ranked by revenue. What a careful sentence! Android comes up next with 39%, followed by RIM with 9%, 2% going to everyone else. This report shows you exactly what you want to see: Android is growing at a blasting rate, coming up on Apple quick, but Apple retains the heavy head of everything as it remains such a singular force. All this info is via Millenial Media's April 2011 MobileMix.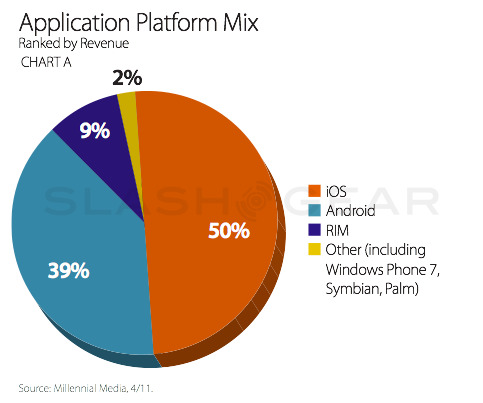 Have a peek at some extra charts for your enjoyment, all from the same study as provided by Millennial Media: