iOS app size averages at 23 MB, 16-percent increase since March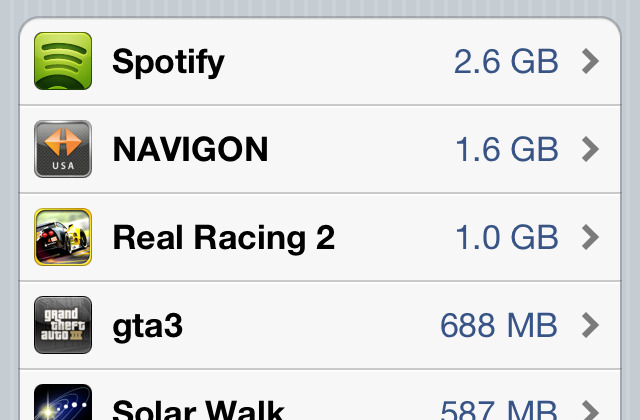 A lot of potential iOS device buyers usually seem to settle for the lower-capacity options if they don't plan to stuff it with movies and music, and they believe apps are so small in size that even if they had a bunch installed, they assume they wouldn't take up much space anyway. However, that no longer seems to be the case, since the average size of iOS apps is on the rise.
Research firm ABI Research conducted a survey on the iOS app ecosystem, and found out that the average app size was 23 MB as of last month. This is a 16% increase over the average app size back in March. And obviously, the average size of games saw the greatest increase at an average of 60 MB, up 42% from March.
AllThingsD cites a few reasons for the the size increase: One being that the Retina display allows app and game developers to use better quality graphics at higher resolutions, which will undoubtedly increase the size of the app by quite a bit. The second reason is because of the increase of the over-the-air app download limit from 20 MB to 50 MB. And the final reason is universal apps, which require the necessary resources to run on both the iPhone and iPad.
This doesn't even take in account in-app downloads, which can soar into the gigabytes on navigation apps for offline maps, as well as music-streaming apps that offer offline streaming. So, the next time you're looking to buy a new mobile device, take a look at how much space you're using just for apps. You may be surprised by what you see.
[via AllThingsD]