iOS and Android tablet usage level, reveals study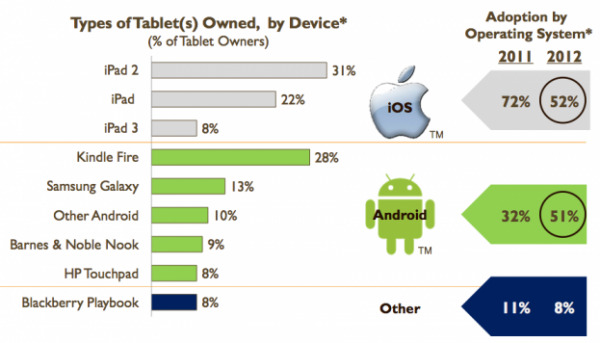 The Online Publishers Association (OPA) has released a new study examining the attitudes of today's tablet users. This latest report is the second year in which OPA has done this study and reveals a surge in tablet usage as well as some interesting trends. To be noted is that the number of people that own iPads versus Android tablets has actually evened out from 72 percent versus 32 percent last year to 52 percent versus 51 percent this year thanks to the popularity of the Kindle Fire.
Tablet usage overall for accessing the internet has now risen to 31 percent in the US, up from 12 percent last year, which is 74 million more tablet users. The adoption rate is expected to continue its climb, reaching 47 percent penetration by 2013. Currently, tablet users use their devices for 13.9 hours per week on average, 74 percent of them use it daily, and 60 percent use it several times a day.
About 94 percent of tablet usage is for accessing content and information, followed by internet usage at 67 percent, and checking email at 66 percent. Of the content-related activities, 54 percent is for watching videos, 49 percent for getting weather information, 37 percent for national news, and 36 percent for entertainment content.
Although paid apps only account for 23 percent of all tablet apps downloaded in the past year, 72 percent of all tablet owners have paid for at least one app. Most tablet owners showed a preference for free apps with advertising over paid apps. However, OPA still expects the total market for paid tablet apps to reach $2.6 billion in 2012.