iOS and Android pummel competition in IDC report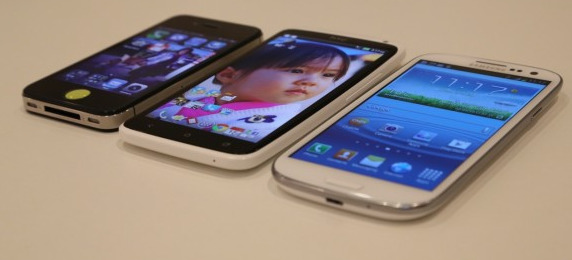 Over at the IDC they've released some information leading to the idea that after the obvious leader Android at 59%, the world's top mobile operating system is iOS with 23% of the world's supply. The following data shows that Symbian is in third place with a surprising 6.8% with BlackBerry right up in that mix with 6.4%. Perhaps most surprising of all is the fact that Linux is beating Windows Phone with 2.3% over 2.2%, this likely stemming from the fact that many systems can be tracked to Linux while Windows Phone remains clearly its own – and the fact that Samsung continues to push their own Linux-based operating system Bada.
The chart you see here shows both Symbian and Blackberry tumbling terrible compared to their share last year, with Symbian falling a massive 60.6% and Blackberry falling 29.7%. Blackberry's change is topped by the amount of "other" smartphone operating systems recorded by the IDC with a 33.3%, then both Symbian and Blackberry's changes were topped by iOS and Android's increases which were both massive. Year over year change for iOS was a whopping 88.7% while Android grew 145% the world over.

These changes can be attributed to the popularity of both the iPhone and Android smartphone makers such as Samsung and HTC, but can also be tracked to the overall growth of smartphone use in general. According to the IDC, smartphone operating system use grew nearly 50% compared to this same quarter last year. According to Ramon Llamas, senior research analyst with IDC's Mobile Phone Technology and Trends program, there's more to it than that:
"The popularity of Android and iOS stems from a combination of factors that the competition has struggled to keep up with. Neither Android nor iOS were the first to market with some of these features, but the way they made the smartphone experience intuitive and seamless has quickly earned a massive following." – Llamas
Chart: Worldwide Smartphone OS Market Share, 1Q 2012
Description: IDC's Worldwide Quarterly Mobile Phone Tracker provides smart phone and feature phone market data in 54 countries by vendor, device type, air interface, operating systems and platforms, and generation. Over 20 additional technical segmentations are provided. The data is provided four times a year and includes historical and forecast trend analysis. For more information, or to subscribe to the research, please contact Kathy Nagamine at 1-650-350-6423 or knagamine@idc.com. Further detail about this tracker can be found at: http://www.idc.com/tracker/showproductinfo.jsp?prod_id=37
Tags:
Author: IDC
charts powered by iCharts
Another important point to note here is that both Linux and Windows Phone Q1 shipments grew compared to last year even though their total market share fell.
[via IDC]