iOS 9, Watch OS 2, OS X 10.11 El Capitan updated to Beta 3 for developers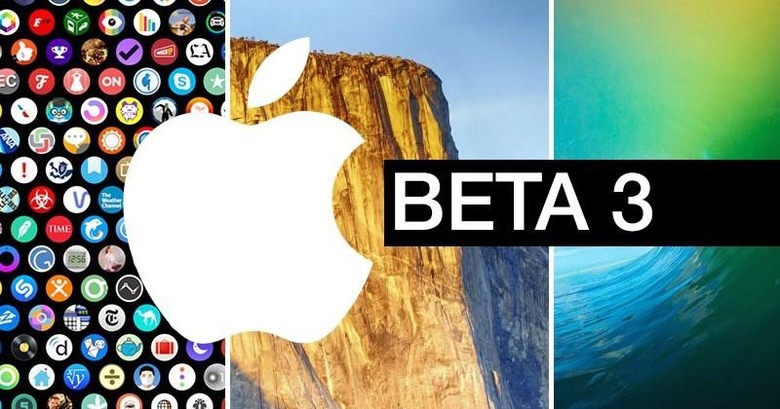 Apple's third beta software has been delivered to developers for the iPhone, iPad, Apple Watch, and Mac computers with iOS 9, Watch OS 2, and OS X 10.11 El Capitan. This is the third wave of software updates to developers working with the software suite for all Apple developers before full release later this year. This update brings the iOS 9 to software build 13A4293f, El Capitan to software build 15A216g, and WatchOS 2 to software build 13S5293e. Developers will get these updates as early as this afternoon – ie immediately over the air.
The Watch OS 2 beta 3 software will remain a mystery until we do our own old-to-new analysis as Apple does not send release notes on WatchOS betas. At this time it would appear that we can count on bug fixes at least – as always.
As for OS X El Capitan beta 3 and iOS 9 beta 3, well – there's a whole lot of tiny feature boosts going on.
In iOS 9 the big release is in Apple's News app. This app begins action with topics such as Apple Inc., Apple Watch, Apple, and a number of channels. When the app is first opened, users will choose three or more publications and/or categories to run with.
This app is separated into five sections – For You, Favorites, Explore, Search, and Saved. Basically it's a way for iOS users to get their news in a happily curated central location.
It's simple – it'll do what you need it to do. It'll launch later this year with iOS 9 proper.
The iPad version of iOS 9 delivers 16 apps on a folder page. That's more than before. That includes four apps across and four apps down, all inside a folder which... has lots and lots of negative space around it.
OS X El Capitan Beta 3 is largely a bug-fix sort of update. You can now drag a window out of the top bar in Mission Control, allowing you to move it back to the desktop on a totally separate window, and a few design tweaks are popping up here and there. Nothing massive in this desktop software so far – we'll be looking!