iOS 7.0.2 out now: Lockscreen bypass fixed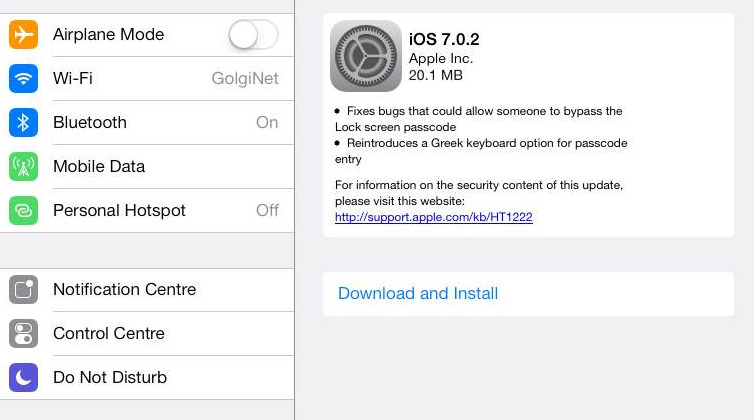 Just days after the first release of iOS 7, 7.0 that is, the folks at Apple saw some intrepid explorers bypass the basic lockscreen security of the software. Today the fix is in – iOS 7.0.2 is available for iOS devices of all kinds – all those that could use iOS 7 in the first place, that is – complete with a newly refreshed bit of security as its headline change. This version of iOS will ring in at 17.4MB and should be available to everyone by the end of the day.
If you're aiming to download iOS 7.0.2, you can do so by plugging your iPhone or iPad or iPod touch into your computer and upgrading through iTunes. If you're working straight through the device itself, you'll have only to go to settings – general – software update. There you'll find the following message: iOS 7.0.2 Apple Inc. 17.4 MB, Fixes bugs that could allow someone to bypass the Lock screen passcode.
This update also has a reintroduction of sorts for Greek keyboard entry of passcodes at the lockscreen. This option was available back in iOS 6 and will from this point forward works in iOS 7 as well. It's also possible that this update has to do with early fixes on jailbreaking iOS 7, as is often the case with early updates to Apple's mobile operating system once hackers have a crack at it.
This past week Apple released the iPhone 5s as well as the iPhone 5c, both of which carried iOS 7 right out of the box. SlashGear reviewed iOS 7 at the same time as ushering in a first iPhone 5s review and an iPhone 5c review immediately preceding worldwide launch. Have a peek at our iOS 7 timeline below to catch up on all the earliest goings-on!