This morning Apple has revealed iOS 6.1 for their most modern mobile device lineup, this download and upgrade available over-the-air for all iPhone, iPad, and iPod touch models currently carrying iOS 6.0. This upgrade includes several updates to the system including, first of all, LTE support for a brand new set of carriers for the iPhone 5 (and perhaps the iPad lineup as well), a full list of which you can find on Apple's iPhone 5 carrier page. Next you'll find iTunes Match compatibility with individual song downloads from iCloud – you've never had that before, believe it or not!
The iOS 6.1 software upgrade includes a new button that will allow you to reset your Advertising Identifier and includes a set of bug fixes as well. This update will be coming straight to your iPhone, iPod touch, and iPad today (or rather soon) and will be available at the touch of a button. Once you see your upgrade alert, you'll have only to download the required software (107 MB in all) then hit install. A real simple process is what this is all about.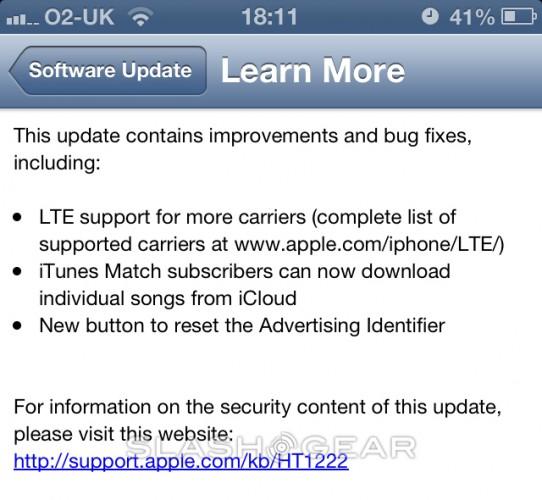 This software upgrade will be necessary for future apps, though as it has been in the past, it'll likely be quite a while before any developer requires you use this ultra-newest upgrade to run them with ease. This upgrade is being pushed starting today, January 28th, 2013, and is wholly different from the iOS 6.0.1 update that came across back on the first of November, 2012.
Let us know if you've found anything wild and crazy happening when you've installed iOS 6.1 to your Apple mobile device once you've done it, and head to our massive Apple hub for more information on all your favorite Apple products through the future. Also note that this software update will not be working with device that were not able to work with iOS 6.0, and we've not heard any word on trouble with anyone using a device that already had iOS 6.0 onboard thus far. Load it up!